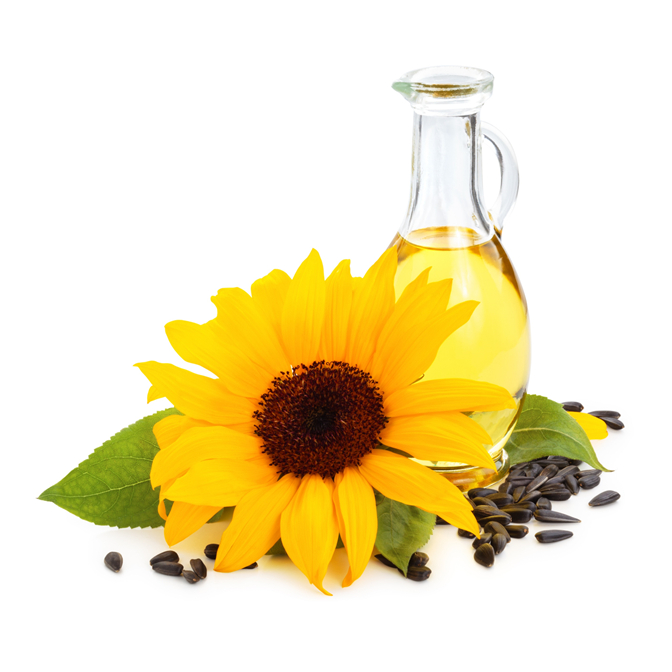 Scientific names: Helianthus annuus
Family: Asteraceae/Compositae
Alternate names: Aceite de Girasol, Adityabhakta, Corona Solis, Fleurs de Soleil, Grand Soleil, Hélianthe, Hélianthe Annuel, Helianthi Annui Oleum, High Oleic Acid Sunflower Oil, High Oleic Sunflower Oil, Huile de Graines de Tournesol, Huile de Tournesol, Marigold of Peru, Sunflower, Sunflower Oils, Sunflower Seed Oil
Actions: Antiallergy, Antiatherosclerotic, Anticoagulant and antiplatelet, Antidiabetic, Antifungal, Antihypertensive, Antilipemic, Antioxidant, Body composition, Dermatologic, Gastrointestinal function, Immune
Sunflower oil is pressed from the seeds of the sunflower plant (Helianthus annuus). It contains high amounts of the essential fatty acid, linoleic acid.

Some sunflowers are grown to contain high amounts of oleic acid. Sunflower oil that comes from these plants is called high-oleic acid sunflower oil. It's used as a source of polyunsaturated fat in the diet.

People use sunflower oil for high cholesterol and preventing heart disease. It is also used for high blood pressure, eczema, dry mouth, dry skin, and many other conditions, but there is no good scientific evidence to support these uses.
When taken by mouth: Sunflower oil is commonly consumed in foods.

When used as a mouth rinse: There isn't enough reliable information to know if sunflower oil is safe or what the side effects might be.

When applied to the skin: Sunflower oil is likely safe when used for up to 6 weeks.


Special Precautions & Warnings:
Pregnancy and breast-feeding: Sunflower oil is commonly consumed in foods. But there isn't enough reliable information to know if sunflower oil is safe to use in amounts greater than those found in food when pregnant or breast-feeding. Stay on the safe side and stick to food amounts.

Children: Sunflower oil is commonly consumed in foods. But there isn't enough reliable information to know if it is safe to take by mouth in larger amounts as medicine. Sunflower oil is possibly safe when applied to the skin for up to 2 months.

Allergy to ragweed and related plants: Sunflower oil may cause an allergic reaction in people who are sensitive to the Asteraceae/Compositae plant family. Members of this family include ragweed, chrysanthemums, marigolds, daisies, and many others.

Diabetes: A diet that is high in sunflower oil seems to increase fasting insulin and blood sugar levels. It also seems to increase after-meal blood fats. This might increase the chance of developing "hardening of the arteries" (atherosclerosis) in people with type 2 diabetes.
Sunflower oil is commonly consumed in foods. When it's used as a substitute for other dietary oils, it's recommended that adults consume 1.5 tablespoons of high-oleic acid sunflower oil daily.

As medicine, sunflower oil has been taken by mouth in varying doses. It's also been applied to the skin and used as a mouth rinse. Speak with a healthcare provider to find out what type of product and dose might be best for a specific condition.
Interactions with pharmaceuticals
Medications for diabetes (Antidiabetes drugs)
Interaction Rating=Moderate Be cautious with this combination.
Sunflower oil might increase blood sugar levels. Taking sunflower oil along with diabetes medications might reduce the effects of these medications. Monitor your blood sugar closely.
Interactions with herbs & supplements
There are no known interactions with herbs and supplements.
There are no known interactions with foods.
vital.ly has licensed monographs from TRC Healthcare.
This monograph was last reviewed on 30/04/2023 10:00:00 and last updated on 21/09/2022 06:49:14. Monographs are reviewed and/or updated multiple times per month and at least once per year.
Natural Medicines disclaims any responsibility related to medical consequences of using any medical product. Effort is made to ensure that the information contained in this monograph is accurate at the time it was published. Consumers and medical professionals who consult this monograph are cautioned that any medical or product related decision is the sole responsibility of the consumer and/or the health care professional. A legal License Agreement sets limitations on downloading, storing, or printing content from this Database. No reproduction of this monograph or any content from this Database is permitted without written permission from the publisher. It is unlawful to download, store, or distribute content from this site.