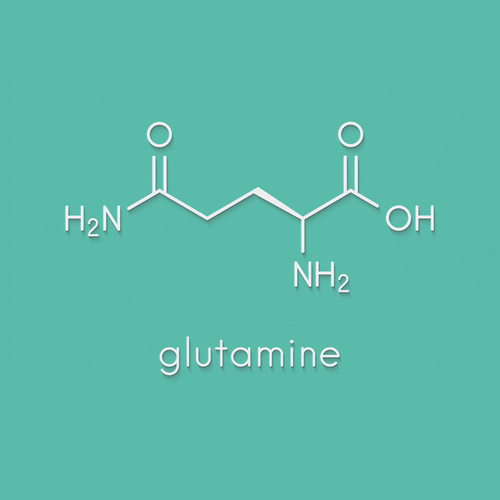 Scientific names: L-(+)-2-Aminoglutaramic acid
Alternate names: Acide Glutamique, Acide Glutamique HCl, Acide L-(+)-2-Aminoglutaramique, Acide L-Glutamique, Acide L-Glutamique HCl, Alanyl-L-Glutamine Dipeptide, Éthyle Ester de Glutamine, Éthyle Ester de Glutamine HCl, GLN, Glutamate, Glutamic Acid, Glutamic Acid HCl, Glutamic Acid Hydrochloride, Glutamina, Glutaminate, Glutamine Ethyl Ester, Glutamine Ethyl Ester HCl, Glutamine Methyl Ester, Glutamine Peptides, Levoglutamide, Levoglutamine, L-Alanyl-L-Glutamine, L-Glutamic Acid, L-Glutamic Acid HCl, L-Glutamic Acid Hydrochloride, L-Glutamic Acid 5-Amide, L-Glutamine, N-Acetyl-L-Glutamine, Peptides de Glutamine, Q
Actions: Anti-cytotoxic, Cardioprotective, Exercise performance, Gastrointestinal, Growth, Hepatoprotective, Immune, Muscle developing, Muscle sparing, Weight, Wound-healing
Glutamine is the most abundant amino acid found in the body. It's made in the muscles and transferred by the blood into different organ systems.

Glutamine is a building block for making proteins in the body. It's also needed to make other amino acids and glucose. Glutamine supplements might help gut function, immune function, and other processes, especially in times of stress when the body uses more glutamine.

People take glutamine for sickle cell disease, burns, to improve recovery after surgery, for injuries, and for complications of HIV/AIDS. It is also used for diarrhea, cystic fibrosis, obesity, lung cancer, and many other conditions, but there is no good scientific evidence to support most of these other uses.

Glutamine (Endari) is approved by the US FDA as a prescription drug for sickle cell disease.
When taken by mouth: Glutamine is likely safe when used in doses up to 40 grams daily. Side effects are generally mild and might include bloating, nausea, dizziness, heartburn, and stomach pain.
Special Precautions & Warnings:
Pregnancy and breast-feeding: Glutamine is consumed as part of the diet. There isn't enough reliable information to know if glutamine is safe to use in larger amounts as a medicine when pregnant or breast-feeding. Stay on the safe side and avoid use.

Children: Glutamine is likely safe when taken by mouth in doses up to 0.7 grams/kg body weight daily. There isn't enough reliable information to know if higher doses of glutamine are safe.

Liver disease: Glutamine can increase the risk for brain function issues in people with advanced liver disease. Do not use it if you have liver disease.

Bipolar disorder: Glutamine might increase the risk for mania or hypomania in people with this condition.

Monosodium glutamate (MSG) sensitivity: If you are sensitive to MSG, you might also be sensitive to glutamine. The body converts glutamine to glutamate.

Seizures: There is some concern that glutamine might increase the likelihood of seizures in some people. Avoid use.
Glutamine has most often been used by adults in doses of 15-30 grams by mouth daily for up to 12 months. Speak with a healthcare provider to find out what dose might be best for a specific condition.

For information on using prescription glutamine, a product called Endari, speak with a healthcare provider.
Interactions with pharmaceuticals
Medications used to prevent seizures (Anticonvulsants)
Interaction Rating=Moderate Be cautious with this combination.
Glutamine may increase the risk of seizures in some people. Therefore, taking glutamine may decrease the effects of medications used to prevent seizures.
Interactions with herbs & supplements
There are no known interactions with herbs and supplements.
There are no known interactions with foods.
vital.ly has licensed monographs from TRC Healthcare.
This monograph was last reviewed on 30/04/2023 10:00:00 and last updated on 01/12/2020 03:11:25. Monographs are reviewed and/or updated multiple times per month and at least once per year.
Natural Medicines disclaims any responsibility related to medical consequences of using any medical product. Effort is made to ensure that the information contained in this monograph is accurate at the time it was published. Consumers and medical professionals who consult this monograph are cautioned that any medical or product related decision is the sole responsibility of the consumer and/or the health care professional. A legal License Agreement sets limitations on downloading, storing, or printing content from this Database. No reproduction of this monograph or any content from this Database is permitted without written permission from the publisher. It is unlawful to download, store, or distribute content from this site.