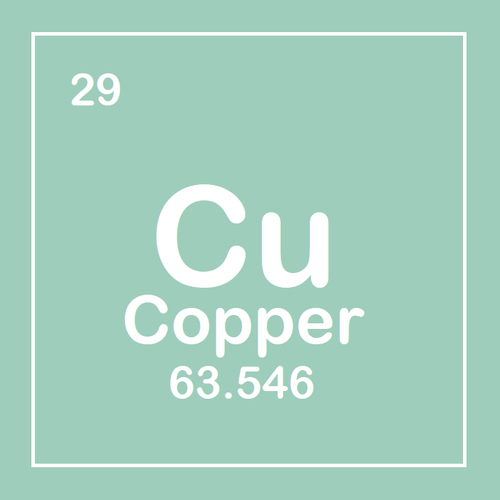 Scientific names: Copper, Cu, Atomic number 29
Alternate names: Chélate de Cuivre, Chelated Copper, Citrate de Cuivre, Cobre, Cobre Quelado, Copper Ascorbate, Copper Chelate, Copper Citrate, Copper Gluconate, Copper Sulfate, Cuivre, Cuivre Chélaté, Cuivre Élémentaire, Cupric Oxide, Cupric Sulfate, Cupric Sulfate Pentahydrate, Cuprum Aceticum, Cuprum Metallicum, Elemental Copper, Gluconate de Cuivre, Numéro Atomique 29, Oxyde Cuivrique, Pentahydrate de Sulfate de Cuivre, Quelato de Cobre, Sulfate de Cuivre, Sulfate Cuivrique, Sulfate Cuprique
Actions: Bone, Connective tissue, Neurologic
Copper is a mineral found in foods such as organ meats, seafood, nuts, and grain products. It was historically used for preventing infections after burns.

Copper is involved in many of the natural body processes. It's stored mostly in the bones and muscles. The liver regulates the amount of copper in the blood.

Copper is most commonly used for treating copper deficiency and the anemia it may cause. But having copper deficiency is very rare. It's also used for Alzheimer disease, acne, tooth plaque, and many other conditions, but there is no good scientific evidence to support these uses.
When taken by mouth: Copper is likely safe when used in amounts no greater than 10 mg daily. Copper is possibly unsafe when taken in larger amounts. Kidney failure and death can occur with as little as 1 gram of copper sulfate. Symptoms of copper overdose include nausea, vomiting, bloody diarrhea, fever, stomach pain, low blood pressure, anemia, and heart problems.

When applied to the skin: Wound dressings containing copper oxide are possibly safe.
Special Precautions & Warnings:
Pregnancy and breast-feeding: Copper is likely safe when taken by mouth appropriately. No more than 8 mg of copper should be consumed daily in those 14-18 years old, and no more than 10 mg daily in those 19 years or older. Taking copper by mouth in higher doses is possibly unsafe and can be dangerous.

Children: Copper is likely safe when taken by mouth appropriately. Children should not get more than the tolerable upper intake level (UL) of copper. The UL is 1 mg daily for children 1-3 years, 3 mg daily for children 4-8 years, 5 mg daily for children 9-13 years, and 8 mg daily for adolescents. Taking copper in higher doses is possibly unsafe and can be dangerous.

Certain hereditary conditions, including idiopathic copper toxicosis and childhood cirrhosis: Taking extra copper might make these conditions worse.

Wilson disease: Taking copper supplements can make this condition worse and might interfere with treatment.
Copper is an essential mineral founds in foods such as organ meats, seafood, nuts, seeds, wheat bran cereals, grain products, and cocoa products. The amount that should be consumed on a daily basis is called the recommended dietary allowance (RDA). For adults 19 years and older, the RDA is 900 mcg daily. While pregnant, the RDA is 1000 mcg daily, and while breast-feeding, the RDA is 1300 mcg daily. In children, the RDA depends on age.

Copper is also available in supplements and has been added to compression stockings and wound dressings. Speak with a healthcare provider to find out what type of product and dose might be best for a specific condition.
Interactions with pharmaceuticals
Birth control pills (Contraceptive drugs)
Interaction Rating=Minor Be watchful with this combination.
Copper levels are increased in the blood while using medications for birth control. Taking copper along with these medications might cause levels of copper in the body to become too high. But this is not likely to be a major concern for most people.
Penicillamine (Cuprimine, Depen)
Interaction Rating=Moderate Be cautious with this combination.
Penicillamine is used for Wilson disease and rheumatoid arthritis. Copper might decrease how much penicillamine the body absorbs and decrease the effects of penicillamine.
Interactions with herbs & supplements
Iron: Taking iron with copper might lower how much copper and/or iron the body absorbs. This might affect both adults and infants, but it's not clear if it's a major concern.
Vitamin C: Large amounts of vitamin C can interfere with the way the body transports and uses copper. But this probably isn't a major concern unless dietary copper intake is low.
Zinc: Large amounts of zinc can reduce how much copper the body absorbs and might even lead to copper deficiency. But it's unlikely that normal supplemental doses of zinc would affect copper levels.
There are no known interactions with foods.
vital.ly has licensed monographs from TRC Healthcare.
This monograph was last reviewed on 29/06/2022 02:59:58 and last updated on 05/11/2020 23:33:24. Monographs are reviewed and/or updated multiple times per month and at least once per year.
Natural Medicines disclaims any responsibility related to medical consequences of using any medical product. Effort is made to ensure that the information contained in this monograph is accurate at the time it was published. Consumers and medical professionals who consult this monograph are cautioned that any medical or product related decision is the sole responsibility of the consumer and/or the health care professional. A legal License Agreement sets limitations on downloading, storing, or printing content from this Database. No reproduction of this monograph or any content from this Database is permitted without written permission from the publisher. It is unlawful to download, store, or distribute content from this site.