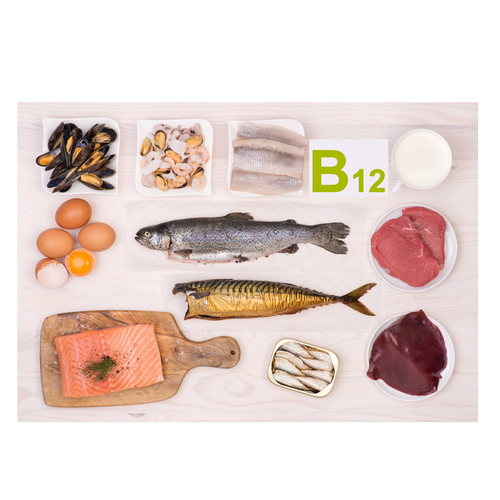 Scientific names: Vitamin B12, Adenosylcobalamin, Cyanocobalamin, Hydroxocobalamin, Methylcobalamin
Alternate names: Adénosylcobalamine, B-12, B12, B Complex, B Complex Vitamin, Bedumil, Cobalamin, Cobalamin Enzyme, Cobalamine, Cobamamide, Cobamin, Cobamine, Coenzyme B12, Co-Enzyme B12, Coenzyme B-12, Co-Enzyme B-12, Complexe Vitaminique B, Cyanocobalamine, Cycobemin, Dibencozide, Dibencozida, Hydroxycobalamine, Hydroxocobalaminum, Hydroxocobemine, Hydroxocobémine, Idrossocobalamina, Mecobalamin, Méthylcobalamine, Vitadurin, Vitadurine, Vitamina B12, Vitamine B12
Actions: Anticancer, Cardiovascular, Hepatic, Neurological, Otic
Vitamin B12 is an essential vitamin found in foods such as meat, fish, and dairy. It can also be made in a lab and is often taken with other B vitamins.

Vitamin B12 is required for the function and development of many parts of the body, including the brain, nerves, and blood cells. Methylcobalamin is the active form of vitamin B12. Cyanocobalamin, which must be processed by the body into the active form, is the most common type used in supplements.

People commonly use vitamin B12 for vitamin B12 deficiency, cyanide poisoning, and high levels of homocysteine in the blood. It is also used for canker sores, cataracts, Alzheimer disease, osteoporosis, fatigue, and many other conditions, but there is no good scientific evidence to support most of these other uses.
When taken by mouth: Vitamin B12 is likely safe for most people. Vitamin B12 is considered safe even in large doses.

When applied to the skin: Vitamin B12 is likely safe for most people when used appropriately.

When sprayed into the nose: Vitamin B12 is likely safe for most people. Vitamin B12 is considered safe even in large doses.
Special Precautions & Warnings:
Pregnancy and breast-feeding: Vitamin B12 is likely safe when taken by mouth during pregnancy or breast-feeding in the amounts recommended. The recommended amount for pregnancy is 2.6 mcg per day. Those breast-feeding should take 2.8 mcg per day. The safety of larger amounts is unknown.

Post-surgical stent placement: Avoid using a combination of vitamin B12, folate, and vitamin B6 after receiving a coronary stent. This combination may increase the risk of blood vessel narrowing.

Allergy or sensitivity to cobalt or cobalamin: Do not use vitamin B12 if you have this condition.
Vitamin B12 is an essential nutrient. Fish, shellfish, meat, eggs, and dairy products are good sources of vitamin B12. The amount that should be consumed on a daily basis is called the recommended dietary allowance (RDA). The RDA is 2.4 mcg daily for people 18 years and older. While pregnant, the RDA is 2.6 mcg daily. While breastfeeding, the RDA is 2.8 mcg daily. In children, the RDA depends on age.

People over 50 years of age are advised to eat foods fortified with vitamin B12 or to take a vitamin B12 supplement. 25-100 mcg daily has been taken by mouth to maintain vitamin B12 levels in older adults. Speak with a healthcare provider to find out what dose might be best for a specific condition.
Interactions with pharmaceuticals
It is not known if Vitamin B12 interacts with any medicines. Before taking Vitamin B12, talk with your healthcare professional if you take any medications.
Interactions with herbs & supplements
Folic acid: Folic acid, particularly in large doses, can cover up vitamin B12 deficiency, and cause serious health effects. Be sure that your healthcare provider checks your vitamin B12 levels before you start taking folic acid.
Potassium: Potassium supplements can reduce absorption of vitamin B12 in some people and might contribute to vitamin B12 deficiency.
Vitamin C: Vitamin C supplements can destroy dietary vitamin B12. It isn't known whether this interaction is important, but to stay on the safe side, take vitamin C supplements at least 2 hours after meals.
Heavy drinking for at least two weeks can decrease vitamin B12 absorption from the stomach.
vital.ly has licensed monographs from TRC Healthcare.
This monograph was last reviewed on 26/08/2023 10:00:00 and last updated on 19/11/2020 21:04:17. Monographs are reviewed and/or updated multiple times per month and at least once per year.
Natural Medicines disclaims any responsibility related to medical consequences of using any medical product. Effort is made to ensure that the information contained in this monograph is accurate at the time it was published. Consumers and medical professionals who consult this monograph are cautioned that any medical or product related decision is the sole responsibility of the consumer and/or the health care professional. A legal License Agreement sets limitations on downloading, storing, or printing content from this Database. No reproduction of this monograph or any content from this Database is permitted without written permission from the publisher. It is unlawful to download, store, or distribute content from this site.