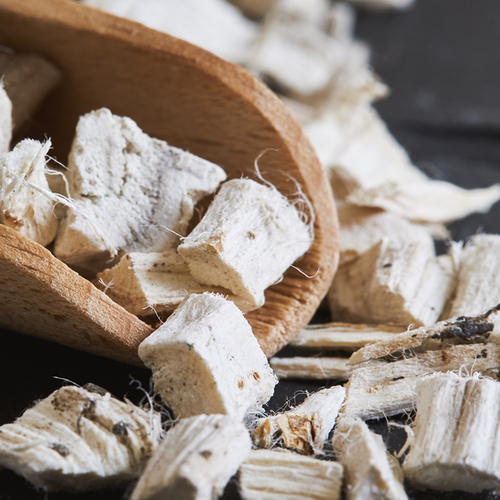 Scientific names: Althaea officinalis, Althaea taurinensis
Alternate names: Altea, Alteia, Althaeae Folium, Althaeae Radi, Althea, Althée, Guimauve, Guimauve Officinale, Gulkhairo, Herba Malvae, Mallards, Malvavisco, Marsh Maillo, Mauve Blanche, Mortification Root, Racine de Guimauve, Sweet Weed, Wymote
Actions: Anti-inflammatory, Antimicrobial, Antioxidant, Antiplatelet, Antitussive/mucociliary, Dermatologic, Gastrointestinal, Hepatic, Hypoglycemic, Hypolipidemic
Marshmallow (Althea officinalis) is a plant. The leaves and the root are sometimes used to make medicine.

Marshmallow is sometimes used to form a protective layer on the skin and lining of the digestive tract. It also contains chemicals that might decrease cough and fight infections. Don't confuse marshmallow with the mallow (Malva sylvestris) flower and leaf.

Marshmallow leaf and root are commonly used by mouth for stomach ulcers, diarrhea, constipation, and other conditions, but there is no good scientific evidence to support these uses.
When taken by mouth: Marshmallow root and leaf are likely safe when taken in the amounts found in foods. It is possibly safe to take the root and leaf in larger amounts as medicine. There isn't enough reliable information to know if marshmallow flower is safe or what the side effects might be.

When applied to the skin: Marshmallow is possibly safe when applied directly to the skin.
Special Precautions & Warnings:
Pregnancy and breast-feeding: There isn't enough reliable information to know if marshmallow is safe to use when pregnant or breast-feeding. Stay on the safe side and stick to food amounts.

Bleeding disorders: Taking marshmallow might increase your risk of bleeding.

Surgery: Marshmallow flower might slow blood clotting. There is a concern that it could increase the risk of bleeding during and after surgical procedures. Stop taking marshmallow flower at least 2 weeks before a scheduled surgery.
There isn't enough reliable information to know what an appropriate dose of marshmallow might be. Keep in mind that natural products are not always necessarily safe and dosages can be important. Be sure to follow relevant directions on product labels and consult a healthcare professional before using.
Interactions with pharmaceuticals
Lithium
Interaction Rating=Moderate Be cautious with this combination.
Marshmallow might have an effect like a water pill or "diuretic." Taking marshmallow might decrease how well the body gets rid of lithium. This could increase how much lithium is in the body and result in serious side effects. Talk with your healthcare provider before using this product if you are taking lithium. Your lithium dose might need to be changed.
Medications taken by mouth (Oral drugs)
Interaction Rating=Minor Be watchful with this combination.
Marshmallow contains a type of soft fiber called mucilage. Mucilage can decrease how much medicine the body absorbs. Taking marshmallow at the same time you take medications by mouth can decrease the effectiveness of your medication. To prevent this interaction, take marshmallow at least one hour after medications you take by mouth.
Medications that slow blood clotting (Anticoagulant / Antiplatelet drugs)
Interaction Rating=Minor Be watchful with this combination.
Marshmallow might slow blood clotting. Taking marshmallow along with medications that also slow blood clotting might increase the risk of bruising and bleeding.
Interactions with herbs & supplements
Herbs and supplements that might slow blood clotting: Marshmallow might slow blood clotting and increase the risk of bleeding. Taking it with other supplements with similar effects might increase the risk of bleeding in some people. Examples of supplements with this effect include garlic, ginger, ginkgo, nattokinase, and Panax ginseng.
There are no known interactions with foods.
vital.ly has licensed monographs from TRC Healthcare.
This monograph was last reviewed on 23/11/2022 00:10:52 and last updated on 21/05/2018 22:29:41. Monographs are reviewed and/or updated multiple times per month and at least once per year.
Natural Medicines disclaims any responsibility related to medical consequences of using any medical product. Effort is made to ensure that the information contained in this monograph is accurate at the time it was published. Consumers and medical professionals who consult this monograph are cautioned that any medical or product related decision is the sole responsibility of the consumer and/or the health care professional. A legal License Agreement sets limitations on downloading, storing, or printing content from this Database. No reproduction of this monograph or any content from this Database is permitted without written permission from the publisher. It is unlawful to download, store, or distribute content from this site.