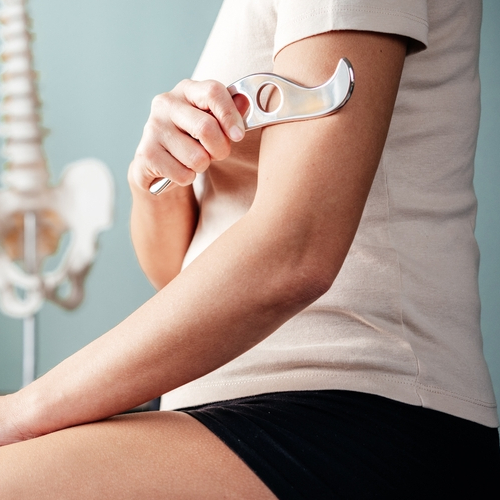 Graston Technique is a patented form of non-surgical instrument-assisted soft tissue mobilization that is believed by its advocates to break down scar tissue and restrictions in fascia. This technique utilizes a unique set of stainless steel instruments on areas such as the shoulder or wrist, which are often associated with soft tissue injuries. Soft tissues include skin, muscle, neurological, and connective tissues.

Only individuals who undergo at least one Graston Technique training course may purchase Graston Technique stainless steel tools. The Graston Technique has been used by athletic trainers, occupational and physical therapists, chiropractors, and manual therapists.
The Graston Technique has been used for carpal tunnel syndrome, headaches, joint and muscle pain, numbness or tingling at extremities, plantar fasciitis, and repetitive stress injuries (e.g., tennis elbow).
There is insufficient reliable evidence about the efficacy of the Graston Technique.
Natural Medicines rates effectiveness based on scientific evidence according to the following scale: Effective, Likely Effective, Possibly Effective, Possibly Ineffective, Likely Ineffective, Ineffective, and Insufficient Evidence to Rate.
General: The most common adverse effects from the Graston Technique include discomfort and bruising.
Interactions with pharmaceuticals
Interactions with herbs & supplements
Interactions with lab tests
Interactions with diseases
In theory, due to the wear and tear of everyday life, physical labor, or athletic activity, muscle fibers may adhere together in an irregular pattern, which results in rope-like structures.

Additionally, when a person is injured, scar tissue and adhesions may occur in the skin and the layers of tissue immediately below the skin. These adhesions and scar tissues are thought to prevent body structures such as muscles, tendons, ligaments, and surrounding tissues from moving freely. Advocates believe that Graston Technique tools will separate and mobilize the adhered muscle fibers, which will in turn relieve the pain and improve functional mobility associated with adhesions.

The Graston Technique is theorized perform several functions to restore functionality in the area of an injury. The warm-up is theorized to render the scar tissue more receptive to the Graston Technique treatment and to decrease patient sensitivity to the pressure and friction that are applied to the scar tissue. The rubbing of the Graston Technique instrument over the affected area of soft tissue theoretically may stretch, separate, and break down the large number of collagen cross-links which form after a soft tissue injury. The friction of the instrument over the skin may also increase the temperature in the area and the volume and rate of blood flow to the affected tissues. Proponents also believe that a Graston Technique therapy session may boost the cellular activity in the region and encourage the presence of some types of immune system cells, such as fibroblasts, which help to synthesize new cellular matrix, and mast cells, which help to minimize inflammation.
vital.ly has licensed professional monographs from TRC Healthcare. Full monographs are available to
Pro
practitioner accounts.
This monograph was last reviewed on 05/05/2015 16:59:19 and last updated on 11/02/2019 18:29:52. Monographs are reviewed and/or updated multiple times per month and at least once per year.
Natural Medicines disclaims any responsibility related to medical consequences of using any medical product. Effort is made to ensure that the information contained in this monograph is accurate at the time it was published. Consumers and medical professionals who consult this monograph are cautioned that any medical or product related decision is the sole responsibility of the consumer and/or the health care professional. A legal License Agreement sets limitations on downloading, storing, or printing content from this Database. No reproduction of this monograph or any content from this Database is permitted without written permission from the publisher. It is unlawful to download, store, or distribute content from this site.