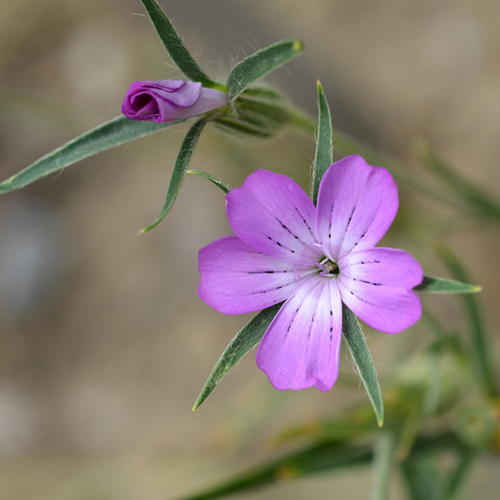 Orally, corn cockle is used as a diuretic, expectorant, menstrual stimulant, poison, vermifuge, and for jaundice.
Topically, corn cockle seeds are used for treating cancers, hard tumors, warts, hard swelling of the uterus, and to induce inflammation of the conjunctiva and cornea. The root is used for exanthemata (acute skin eruptions signifying a viral or coccal infection), and hemorrhoids.
There is insufficient reliable information available about the effectiveness of corn cockle.
Natural Medicines rates effectiveness based on scientific evidence according to the following scale: Effective, Likely Effective, Possibly Effective, Possibly Ineffective, Likely Ineffective, Ineffective, and Insufficient Evidence to Rate.
General: Orally, corn cockle can cause GI irritation, severe muscle pain and twitching, depression, and coma (6). Acute poisoning symptoms include: diarrhea, salivation, vertigo, vomiting, paralysis, and respiratory depression (6). Repeated poisoning by small doses is referred to as "githagism" (6).
Interactions with pharmaceuticals
Interactions with herbs & supplements
Interactions with lab tests
Interactions with diseases
The applicable parts of corn cockle are the root and seed. Poisonous constituents, githagin and agrostemmic acid, are reportedly absorbed from the GI tract causing GI irritation, severe muscle pain and twitching, depression, and coma (6).
| | |
| --- | --- |
| 6 | The Review of Natural Products by Facts and Comparisons. St. Louis, MO: Wolters Kluwer Co., 1999. |
vital.ly has licensed professional monographs from TRC Healthcare. Full monographs are available to
Pro
practitioner accounts.
This monograph was last reviewed on 24/10/2021 21:11:35 and last updated on 26/12/2012 18:10:57. Monographs are reviewed and/or updated multiple times per month and at least once per year.
Natural Medicines disclaims any responsibility related to medical consequences of using any medical product. Effort is made to ensure that the information contained in this monograph is accurate at the time it was published. Consumers and medical professionals who consult this monograph are cautioned that any medical or product related decision is the sole responsibility of the consumer and/or the health care professional. A legal License Agreement sets limitations on downloading, storing, or printing content from this Database. No reproduction of this monograph or any content from this Database is permitted without written permission from the publisher. It is unlawful to download, store, or distribute content from this site.