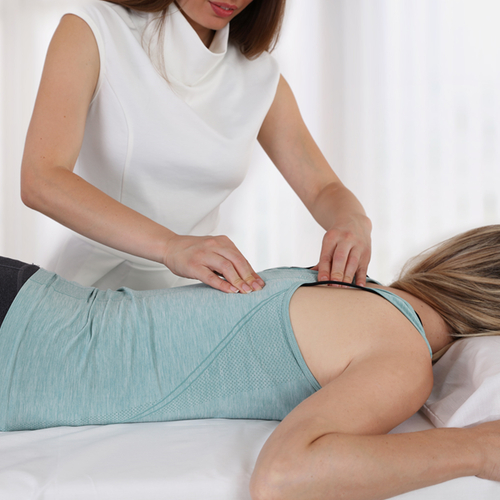 Alternate names: Chiro Therapy, Chirotherapy, Chiropractic Physician, Chiropraticien, Chiropractie, Chiropractors, Chiropratique, Chiropraxie, Manipulation Rachidienne, Manipulation Vertébrale, Manipulative Therapy, Physical Medicine, Quiropráctica, SMT, Spinal Manipulative Therapy, Subluxation
Chiropractic involves spinal manipulation to treat a wide range of conditions. Chiropractors believe that disease is caused by pinched nerves in the spine.

Manipulating or adjusting the spine is thought to remove the pinched nerves, or subluxations, which will allow the body to heal. Chiropractic was developed in 1895 and has grown to be one of the most popular alternative therapies. Many believe it's so popular that it shouldn't be called "alternative" medicine.

People commonly use chiropractic manipulation for back pain, neck pain, and headache. It is also used for joint pain, migraine, high blood pressure, scoliosis, anxiety, and many other conditions, but there is no good scientific evidence to support most of these other uses.
Chiropractic procedures are likely safe for most people when done correctly. However, procedures on the neck can cause side effects including headache, neck pain, and neck stiffness. Some side effects have been severe, such as stroke and bleeding around the spine. But this seems to be very rare.


Special Precautions & Warnings:
Pregnancy: Chiropractic procedures are possibly safe when used during pregnancy for up to 10 weeks.

Breast-feeding: There isn't enough reliable information to know if chiropractic procedures are safe when breast-feeding. Stay on the safe side and avoid use.

Children: Chiropractic procedures are possibly safe in children when done correctly, short term. Serious side effects are rare, but some cases of bleeding in the brain have been reported in children.

Cancer: People with certain cancers that reduce bone density or bone strength might have an increased risk of bone fractures during treatment.
Chiropractic treatment techniques vary widely with different patients and practitioners. A chiropractic treatment is usually 15-30 minutes. A typical treatment course involves about 6 sessions usually given once weekly. Be sure to seek and follow relevant directions from your physician or other healthcare professional before using this treatment.
Interactions with pharmaceuticals
Warfarin (Coumadin)
Interaction Rating=Moderate Be cautious with this combination.
Warfarin is used to thin the blood. People taking warfarin might be more likely to experience bleeding around the spine after receiving chiropractic neck treatments. If you are taking warfarin, avoid getting chiropractic neck treatments.
Interactions with herbs & supplements
There are no known interactions with herbs and supplements.
There are no known interactions with foods.
vital.ly has licensed monographs from TRC Healthcare.
This monograph was last reviewed on 23/11/2022 18:00:16 and last updated on 01/01/2021 02:33:54. Monographs are reviewed and/or updated multiple times per month and at least once per year.
Natural Medicines disclaims any responsibility related to medical consequences of using any medical product. Effort is made to ensure that the information contained in this monograph is accurate at the time it was published. Consumers and medical professionals who consult this monograph are cautioned that any medical or product related decision is the sole responsibility of the consumer and/or the health care professional. A legal License Agreement sets limitations on downloading, storing, or printing content from this Database. No reproduction of this monograph or any content from this Database is permitted without written permission from the publisher. It is unlawful to download, store, or distribute content from this site.