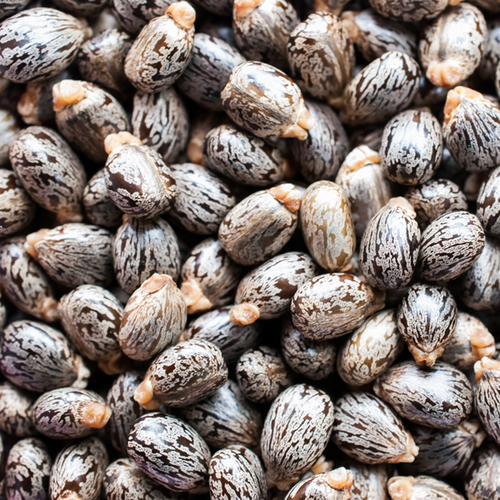 Scientific names: Ricinus communis, Ricinus sanguines
Alternate names: African Coffee Tree, Arandi, Bi Ma Zi, Bofareira, Castorbean, Erand, Eranda, Gandharva Hasta, Graine de Ricin, Huile de Ricin, Huile de Ricin Végétale, Mexico Weed, Palma Christi, Ricin, Ricin Commun, Ricin Sanguin, Ricine, Ricino, Tangantangan Oil Plant, Wonder Tree
Actions: Anti-inflammatory, Antineoplastic, Antinociceptive, Contraceptive, Immune, Labor induction, Laxative properties, Tear stability properties
Castor is a plant that produces seeds (beans). Castor oil is produced from ripe seeds that have had their outer covering (hull) removed. Castor oil has been used as a medicine for centuries.

Castor oil is used for constipation and bowel preparation prior to colonoscopy, childbirth, and many other conditions, but there is no good scientific evidence to support these uses.

The hull of the castor seed contains a deadly poison called ricin. This is why the hull must be removed before use. Ricin has been tested as a chemical warfare agent. Weapons-grade ricin is purified and produced in particles that are so small they can be breathed in.
When taken by mouth: Castor oil is LIKELY SAFE for most people when taken as a single dose. In some people, castor oil can cause stomach discomfort, cramping, nausea, and faintness. When taken long-term or in large doses, castor oil is POSSIBLY UNSAFE. It might cause fluid and potassium loss from the body when used for more than a week or in doses of more than 15-60 mL per day.

Castor seeds that have had the outer coat removed (hulled) are POSSIBLY SAFE when taken as a single dose.

Consuming the whole castor seed is UNSAFE. The outer coating (hull) of the castor seed contains a deadly poison called ricin. This outer coating can cause nausea, vomiting, diarrhea, abdominal pain, dehydration, shock, severe fluid and chemical disturbances, damage to the liver, kidney, and pancreas, and death. Chewing as few as 1-6 whole seeds can kill an adult.

When applied into the eye: Castor oil eye drops are POSSIBLY SAFE when used for up to 30 days.
Special Precautions & Warnings:
Pregnancy and breast-feeding: Using castor oil in pregnant women at term (ready to deliver) is POSSIBLY SAFE. Midwives routinely use castor oil for starting labor in pregnant women who are ready to deliver. However, castor oil should not be used for this purpose without the supervision of a healthcare provider. Also, it is LIKELY UNSAFE to use castor oil in pregnant women who are not at term. It might bring on labor too early. It is UNSAFE for women who are pregnant to take whole castor seeds by mouth, as it can cause serious toxic effects or death.

There isn't enough reliable information to know if castor oil is safe to use when breast-feeding. Stay on the safe side and avoid use.

Children: Castor oil is POSSIBLY SAFE when taken by mouth in appropriate doses short-term (less than one week). Castor oil is POSSIBLY UNSAFE when taken by mouth for more than one week or at a high dose. Taking more than the typical children;s dose of 1-15 mL per day, depending on age, can cause a chemical imbalance in the body. Castor seeds are UNSAFE if the whole seed is taken by mouth.

Intestinal problems: Don't use castor oil if you have a blocked intestine, unexplained stomach pain, or problems with your bile ducts or gall bladder.
The following doses have been studied in scientific research:
ADULTS
BY MOUTH
:
For constipation: 15 mL of castor oil is commonly used.
For emptying the colon before a colonoscopy: 15-60 mL of castor oil given 16 hours before the procedure.
For childbirth: A variety of dosage schedules have been used. Single doses vary from 5-120 mL of castor oil. A one-time dose of 60 mL in fruit juice is commonly used.
CHILDREN
BY MOUTH
:
For emptying the colon before a colonoscopy: For children younger than 2 years, 1-5 mL is commonly used. For children 2-11 years of age, 5-15 mL is typically used. The dose for children over 12 is 15-60 mL given 16 hours before the procedure.
Interactions with pharmaceuticals
Water pills (Diuretic drugs)
Interaction Rating=Moderate Be cautious with this combination.
Castor oil is a laxative. Some laxatives can decrease potassium in the body. "Water pills" can also decrease potassium in the body. Taking castor oil along with "water pills" might decrease potassium in the body too much.

Some "water pills" that can decrease potassium include chlorothiazide (Diuril), chlorthalidone (Thalitone), furosemide (Lasix), hydrochlorothiazide (HCTZ, HydroDiuril, Microzide), and others.
Interactions with herbs & supplements
There are no known interactions with herbs and supplements.
There are no known interactions with foods.
Castor bean is used to make castor oil, which is a strong laxative. In pregnancy, castor oil might start labor by stimulating the uterus.
vital.ly has licensed monographs from TRC Healthcare.
This monograph was last reviewed on 23/10/2022 06:04:09 and last updated on 25/09/2020 00:36:38. Monographs are reviewed and/or updated multiple times per month and at least once per year.
Natural Medicines disclaims any responsibility related to medical consequences of using any medical product. Effort is made to ensure that the information contained in this monograph is accurate at the time it was published. Consumers and medical professionals who consult this monograph are cautioned that any medical or product related decision is the sole responsibility of the consumer and/or the health care professional. A legal License Agreement sets limitations on downloading, storing, or printing content from this Database. No reproduction of this monograph or any content from this Database is permitted without written permission from the publisher. It is unlawful to download, store, or distribute content from this site.