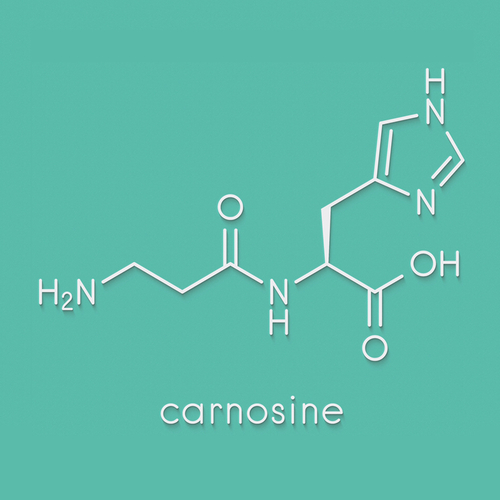 Scientific names: Beta-alanyl-L-histidine
Alternate names: Alanyl-L-Histidine, B-Alanyl-L-Histidine, Beta-Alanyl-L-Histidine, Carnosina, L-Carnosine, Levo-Carnosine, N-Acetyl-Carnosine, N-Acetyl-Carnosine, N-Acetyl-L-Carnosine, N-Acetyl-L-Carnosine
Actions: Antiaging, Anti-Alzheimer, Anti-cataract, Antidiabetic, Antioxidant, Cognitive, Exercise-enhancing, Muscular contraction, Wound healing
Carnosine is a protein building block that is naturally produced in the body. It is found in muscles, the heart, brain, and many other parts of the body.

Carnosine is important for many normal body functions. There's interest in using it to prevent aging because it seems to block certain chemicals that might play a role in the aging process. Carnosine levels in the body might also go down with age.

People use carnosine for aging, diabetes, autism, heart failure, depression, and many other conditions, but there is no good scientific evidence to support these uses.

Carnosine is also called L-carnosine. Don't confuse this with L-Carnitine. These are not the same.
When taken by mouth: Carnosine is possibly safe. It's been used safely at doses of 200-1500 mg daily. It's usually well-tolerated.

When applied to the skin: There isn't enough reliable information to know if carnosine is safe or what the side effects might be.


Special Precautions & Warnings:
Pregnancy and breast-feeding: There isn't enough reliable information to know if carnosine is safe to use when pregnant or breast-feeding. Stay on the safe side and avoid use.

Surgery: Carnosine might affect blood sugar levels and might interfere with blood sugar control during and after surgery. Stop taking carnosine at least 2 weeks before a scheduled surgery.
Carnosine has most often been used by adults in doses of 500-2000 mg by mouth daily for up to 12 weeks. It's also been used in mouth lozenges and creams. Speak with a healthcare provider to find out what type of product and dose might be best for a specific condition.
Interactions with pharmaceuticals
Medications for diabetes (Antidiabetes drugs)
Interaction Rating=Moderate Be cautious with this combination.
Carnosine might lower blood sugar levels. Taking carnosine along with diabetes medications might cause blood sugar to drop too low. Monitor your blood sugar closely.
Interactions with herbs & supplements
Herbs and supplements that might lower blood sugar: Carnosine might lower blood sugar. Taking it with other supplements with similar effects might lower blood sugar too much. Examples of supplements with this effect include aloe, bitter melon, cassia cinnamon, chromium, and prickly pear cactus.
There are no known interactions with foods.
vital.ly has licensed monographs from TRC Healthcare.
This monograph was last reviewed on 15/08/2022 22:56:56 and last updated on 03/12/2020 20:26:52. Monographs are reviewed and/or updated multiple times per month and at least once per year.
Natural Medicines disclaims any responsibility related to medical consequences of using any medical product. Effort is made to ensure that the information contained in this monograph is accurate at the time it was published. Consumers and medical professionals who consult this monograph are cautioned that any medical or product related decision is the sole responsibility of the consumer and/or the health care professional. A legal License Agreement sets limitations on downloading, storing, or printing content from this Database. No reproduction of this monograph or any content from this Database is permitted without written permission from the publisher. It is unlawful to download, store, or distribute content from this site.