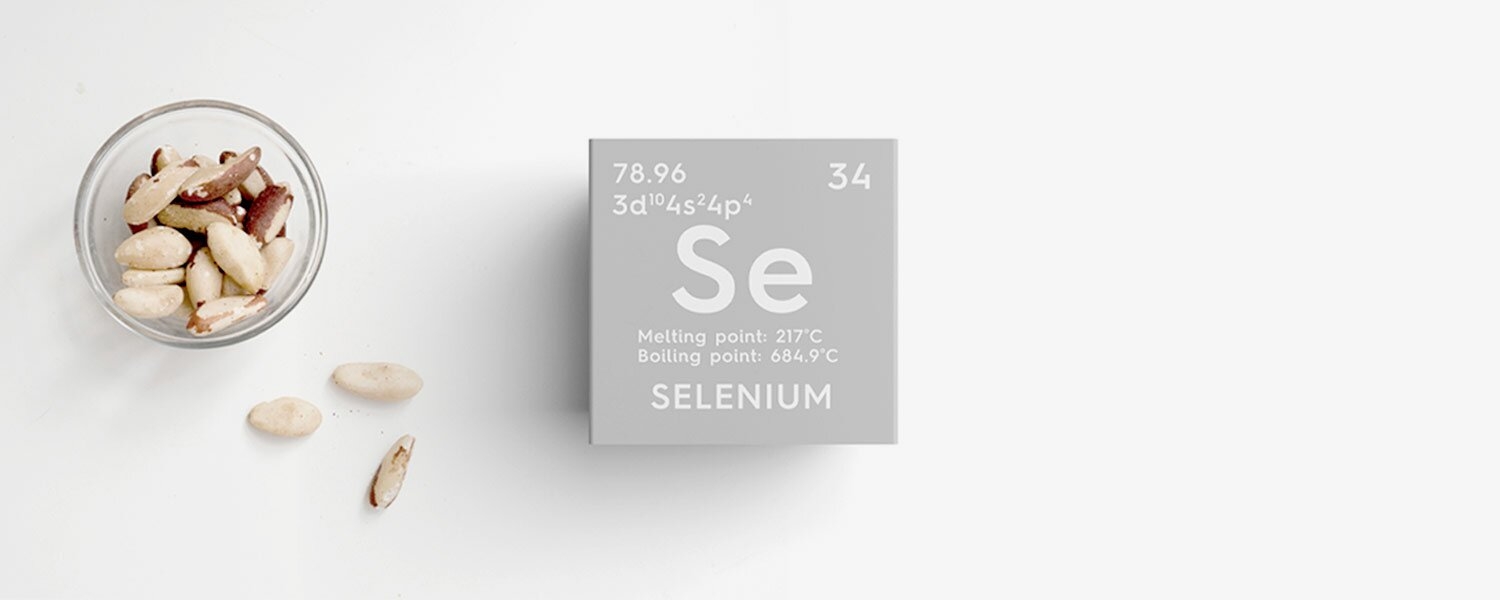 Short telomeres are associated with ageing and cardiovascular disease. However, a recent study suggests that long-term coenzyme Q10 (CoQ10) and selenium supplementation can preserve telomere length and reduce cardiovascular mortality (1).
Telomeres are an essential part of human cells that affect how our cells age. They are combinations of DNA and proteins at the end of chromosomes, helping them remain stable. During cell replication, the telomeres function by ensuring the cell's chromosomes do not fuse or rearrange, and with each replication, the telomeres shorten (2,3). Telomere shortening is a well-known hallmark of cellular senescence and ageing, and accelerated telomere shortening is a common feature of age-related diseases (4). Previous studies have demonstrated that oxidative stress and inflammation may contribute to shortened telomere length (5,6) and increase the risk of age-related diseases, such as cardiovascular disease (CVD) (7,8)
Selenium is an essential micronutrient and is included in enzymes (selenoproteins) in the body, which regulate immunity, redox state, and inflammation (9). Selenium may prevent telomere shortening by reducing inflammation and oxidative stress (10). In vitro studies have reported increased telomerase expression and longer telomeres with selenium supplementation (11), and observational studies have demonstrated the association between dietary selenium and telomere length (12,13). However, human clinical studies investigating the benefits of selenium supplementation are lacking.
CoQ10 is another powerful antioxidant primarily present in the mitochondria as part of the electron transport chain. CoQ10 occurs in cells in two related forms, oxidised (ubiquinone) and reduced (ubiquinol). The continual interconversion between these CoQ10 forms is necessary for normal mitochondrial function, energy production and antioxidant protection. In vitro, a modified form of CoQ10 prevented telomere shortening and increased the lifespan of fibroblasts under conditions of mild oxidative stress (14).
Selenium and CoQ10 are interrelated, as the synthesis of CoQ10 and selenoproteins are both dependent on the same metabolic pathway (15). Furthermore, the selenoprotein thioredoxin reductase reduces ubiquinone to its active antioxidant form ubiquinol. Therefore, adequate amounts of both nutrients are necessary for optimal energy production and antioxidant protection. Insufficient serum levels of either selenium or CoQ10 have been associated with an increased risk of cardiovascular disease (15,16).
Dietary intakes of selenium are insufficient in many countries due to the low soil content of selenium (17,18,19). Furthermore, the endogenous production of CoQ10 declines with age, and myocardial production of CoQ10 at the age of 80 years is only half of that obtained at the age of 20 years (20). Previous studies have reported the beneficial effects of combined supplementation with CoQ10 and selenium on CVD mortality, biomarkers relating to oxidative stress, inflammation, and endothelial dysfunction (21,22,23,24,25,26,27,28).
Although research is scarce, it is known that Australian soils are deficient in selenium, and the selenium content in Australian food is declining (29). Furthermore, studies suggest that the mean selenium plasma concentration of Australians is 94 ug/L (30), which is below the recommended daily intake of 100-150 µg/day of selenium, necessary for the optimal expression of selenoprotein P, which transports selenium from the liver to peripheral tissues (31). Therefore, supplementation may be warranted since many Australians have inadequate selenium dietary intakes due to declining soil concentrations, and further studies are required.
Study results
This explorative sub-study analysed data collected from a prospective, randomised, placebo-controlled study involving Swedish citizens low in selenium aged 70-88 years (21). The original study included 443 healthy elderly participants randomly assigned to receive either a placebo or nutrient supplements for four years. The supplements contained CoQ10 (ubiquinone) (200 mg/day) and yeast-derived organic selenium (selenomethionine) (200 µg/day). The follow-up after 5.2 years showed significantly reduced CVD mortality, improved cardiac function and lowered biomarkers of cardiomyocyte damage (21,22).
The daily co-administration of CoQ10 and selenium for four years produced persistent and significant reductions in cardiovascular mortality years after termination of the supplementation. After ten years, the risk of death due to CVD was still 49% lower in those receiving selenium and CoQ10 (25). An equally positive risk reduction was observed in individuals with ischaemic heart disease. After 12 years, the risk of death due to CVD was 41% lower in the selenium + CoQ10 group. As indicated in subgroup analysis, the risk of cardiovascular mortality was significantly reduced in those with diabetes, ischemic heart disease, hypertension, and impaired functional capacity (26).
The new telomere analysis included data from 118 participants of the larger clinical trial, with leukocyte telomere length (LTL) quantified at the start of the study and again after 42 months of supplementation. LTL is believed to reflect telomere length in other cells and tissues, including vascular cells, and has been linked to CVD. There was significantly less shortening of telomeres at 42 months in the selenium + CoQ10 group compared to the placebo. Correlations were also reported after six years of follow-up between those who died of cardiovascular-related causes and shorter telomere length after the study. In addition, less telomere shortening during the follow-up period was associated with significantly longer survival.
Conclusions
The study cannot prove a causal relationship between combined selenium and CoQ10 supplementation, increased telomere shortening and cardiovascular mortality. Furthermore, the differentiated effect of selenium versus CoQ10 cannot be assessed by this study. However, the results suggest that combined supplementation has long-term benefits for cardiovascular mortality in elderly individuals low in selenium. This study builds on a body of research demonstrating the beneficial effects of combined selenium and CoQ10 supplementation on cardiovascular health, including reduced oxidative stress, inflammation, and clot formation, improved cardiac function, and reduced cardiac mortality risk. Further studies are warranted to elucidate the individual and synergistic benefits of CoQ10 and selenium supplementation for human ageing and cardiovascular disease and understand their role in telomere preservation in elderly individuals.