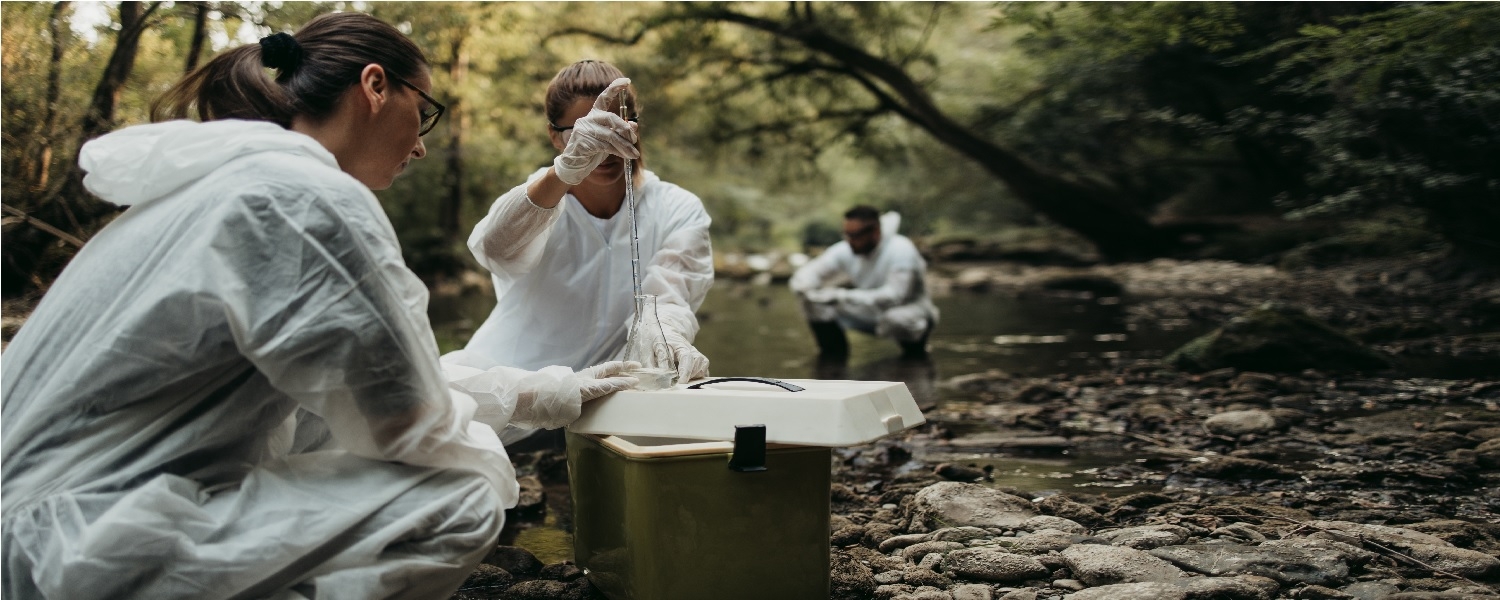 Per- and poly-fluoroalkyl substances, also known as PFAS, are a class of synthetic, fluorinated chemicals resistant to heat, water, and oil (1). 
These manufactured chemicals have been used for over 70 years in many consumer and industrial products, including stain- and water-resistant coating for clothing, furniture and carpets (Scotchgard and GoreTex) (2,3), non-stick coatings (e.g. Teflon) (4,5), food packaging (6,7,8), cosmetics and personal care products (9,10), and fire-fighting foams (11). 
More than 4,700 PFAS chemicals exist, with perfluorooctane sulfonate (PFOS) and perfluorooctanoic acid (PFOA) the most extensively produced and studied (12). 
The chemical backbone of PFAS is made of carbon-fluorine bonds, which is the strongest known chemical bond. As a result, PFAS are incredibly resistant to environmental degradation, earning them the moniker "forever chemicals" (13).
Decades of high-volume production of PFAS, coupled with the environmental persistence of these chemicals, have led to widespread PFAS contamination of soil, water and air, even in remote areas including Antarctica, and bioaccumulation across entire ecological food chains (13,14).
Global biomonitoring studies have detected PFAS in 70-100% of human blood serum, lung, liver, and breast milk samples (15,16,17,18). PFAS are universally detected in the serum of pregnant women, neonates, and children worldwide, indicating that exposure is ubiquitous, and these chemicals can cross the placenta and influence infant development (19,20,21).
PFAS are a significant health concern due to their persistence, bioaccumulation, and potential toxicity. They are increasingly linked to reproductive and developmental toxicity, hepatotoxicity, carcinogenesis, and disruption of immunological, metabolic, and endocrine pathways (14,22,23). The International Agency for Research on Cancer (IARC) has classified PFOA as a possible carcinogen (24). 
Even with efforts to reduce or eliminate the production of PFOA, PFOS and similar PFAS in the United States and other industrial countries, large-scale production is still occurring in countries such as China, and human exposure remains high worldwide (25).
Furthermore, the pressure to phase out some PFAS has led to a proliferation of unstudied and unregulated novel replacement chemicals (e.g. GenX) which are difficult to detect using standard laboratory methods (26). These chemicals may also be more persistent and mobile, less degradable, and equally or more toxic than the older PFAS compounds (27).
Human Exposure Pathways
Due to the widespread production and use of PFAS, their improper disposal and their resistance to degradation, humans are exposed to PFAS daily (Table 1; Figure 1). The highest exposures to PFAS are typically through the dietary intake (28,29,30,31,32) and drinking water (33). However, the relative contribution of each source category varies significantly according to dietary patterns, drinking water source, demographic group, and population. 
Food
Among all foods, fish and shellfish generally have the highest PFAS concentration (32,34), and a positive relationship between serum PFAS levels and fish consumption has been established (35).
PFAS have been found in other dietary sources including meat, dairy products, eggs, beverages, and vegetables, bread, and microwave popcorn (36,37,38,39,40,41,42,43).
PFAS can directly migrate from food packaging and non-stick cookware (44,45). The extent of migration of PFAS from food packaging into food depends on the amount, type, and chain length of PFAS used, the type of food (e.g., fat- vs water-based), the contact time, and the temperature (44,46,47). A 2017 USA study found that 46% of fast-food wrappers contained PFAS, and a weak association between fast food consumption and serum PFAS was detected (48).
Water 
PFAS are prevalent drinking water contaminants because of their mobility, persistence, and widespread use (49). PFAS contamination of drinking water supplies often occurs near landfills, wastewater treatment plants and other sites where PFAS-containing aqueous film-forming foams (AFFFs) are used (50,51,52). Near contaminated sites, drinking water can account for up to 75% of total PFAS exposure (30,53,54). 
An Australian study found PFOS and PFOA in 49% and 44% of samples collected from drinking water taps. Based on the detected levels, the estimated contribution of drinking water to daily PFOS and PFOA intakes was 2-3%, with a maximum of 22% and 24%, respectively (55).
PFAS are detected in bottled water worldwide (56). Sources of PFAS include contamination of water prior to bottling (57,58); the plastic of the bottles (57); and potentially ink from labels (58).
Exposure to even low levels of PFAS in drinking water can significantly increase levels in the body, with serum PFOA levels in adults found to increase by more than 100 times the drinking water concentration (22). Exposure in infants (breast-fed or formula-fed), is even higher than in adults using the same drinking water source due to the greater drinking water intake of infants on a bodyweight basis and the persistence of PFAs in breast milk (22). 
Consumer products, indoor air, and dust
Daily exposure PFAs can occur through consumer products such as clothing and cosmetics, and other items commonly found in the home, office, or car (59,60,61).
PFAS are volatile compounds that are easily released into indoor environments (via air and dust) from treated furniture and floor coverings, and other household products (e.g. cleaning agents), due to their low water solubility and high vapour pressure (61,62,63). Studies have found that indoor exposure routes can account for up to 50% of total exposure in some indoor environments (61).
Table 1. Sources and pathways of human exposure (64)
Sources

Pathways

 

Ingestion

Inhalation

Dermal absorption

Dietary sources

Fish and shellfish

Other foods (e.g. dairy, eggs, meat, vegetables)

Drinking water

Food-packaging materials

Non-stick cookware

 

X

X

 

X

X

X

 

 

Non-dietary sources

Indoor air

Indoor dust

Soil and sediment

Furniture and carpet

Cosmetics

Other consumer products (e.g. outdoor clothing)

Occupational exposure in workplaces that produce PFAS

 

 

X

X

 

X

 

X

 

X

 

 

X

X

X

X

X

 

X
Figure 1. Typical PFAS exposure pathways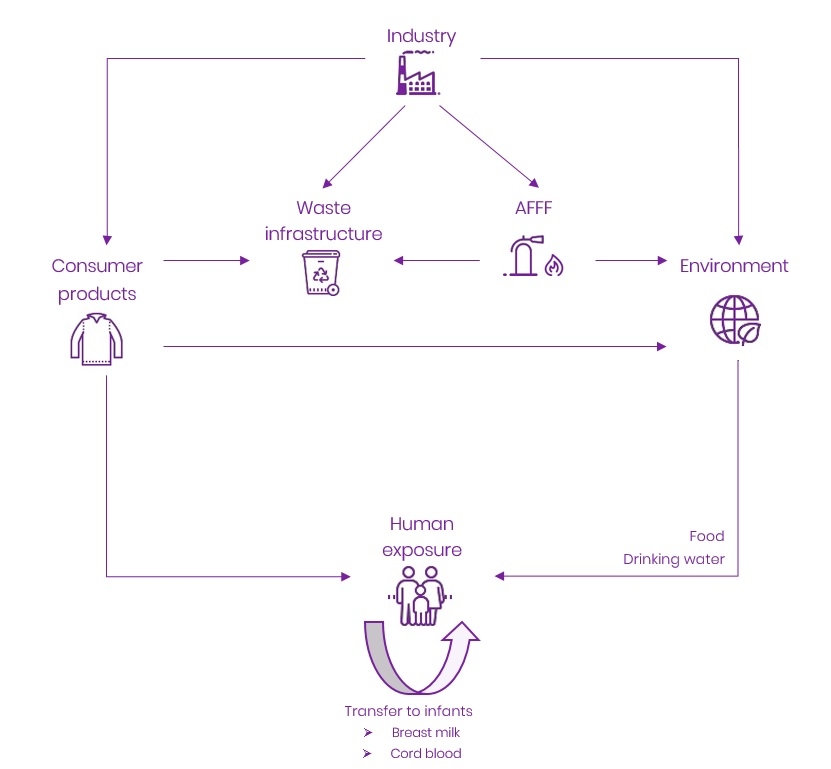 Health impacts of PFAS exposure
The long-term adverse effects of PFAS exposure on humans are not yet well understood due to the vast number of compounds and the limited toxicology data. However, a growing body of evidence from epidemiological studies links certain PFAS compounds, particularly PFOS and PFOA, with a variety of adverse health effects. The most consistent findings from human studies are elevated cholesterol levels (14,23) with more limited findings related to developmental and reproductive outcomes, immune, endocrine, and metabolic effects, liver and kidney function, and cancer (Table 2).
The toxic effects of PFAS depend on the chemical composition and chain length of the compound, the magnitude, duration, and route of exposure, and factors associated with exposed individuals including age, sex, health status and genetic susceptibility (23).
Exposure to PFAS during pregnancy is of great concern as PFAS can be transferred from maternal blood to cord blood through the placental barrier and have detrimental effects on maternal outcomes and infant development (65,66,67).
There are currently no known treatments to accelerate the clearance of PFAS from the body (68), and minimising exposure is the best way to reduce adverse health risks.
Figure 2. Effects of PFAS on human health (23) CC BY 2.5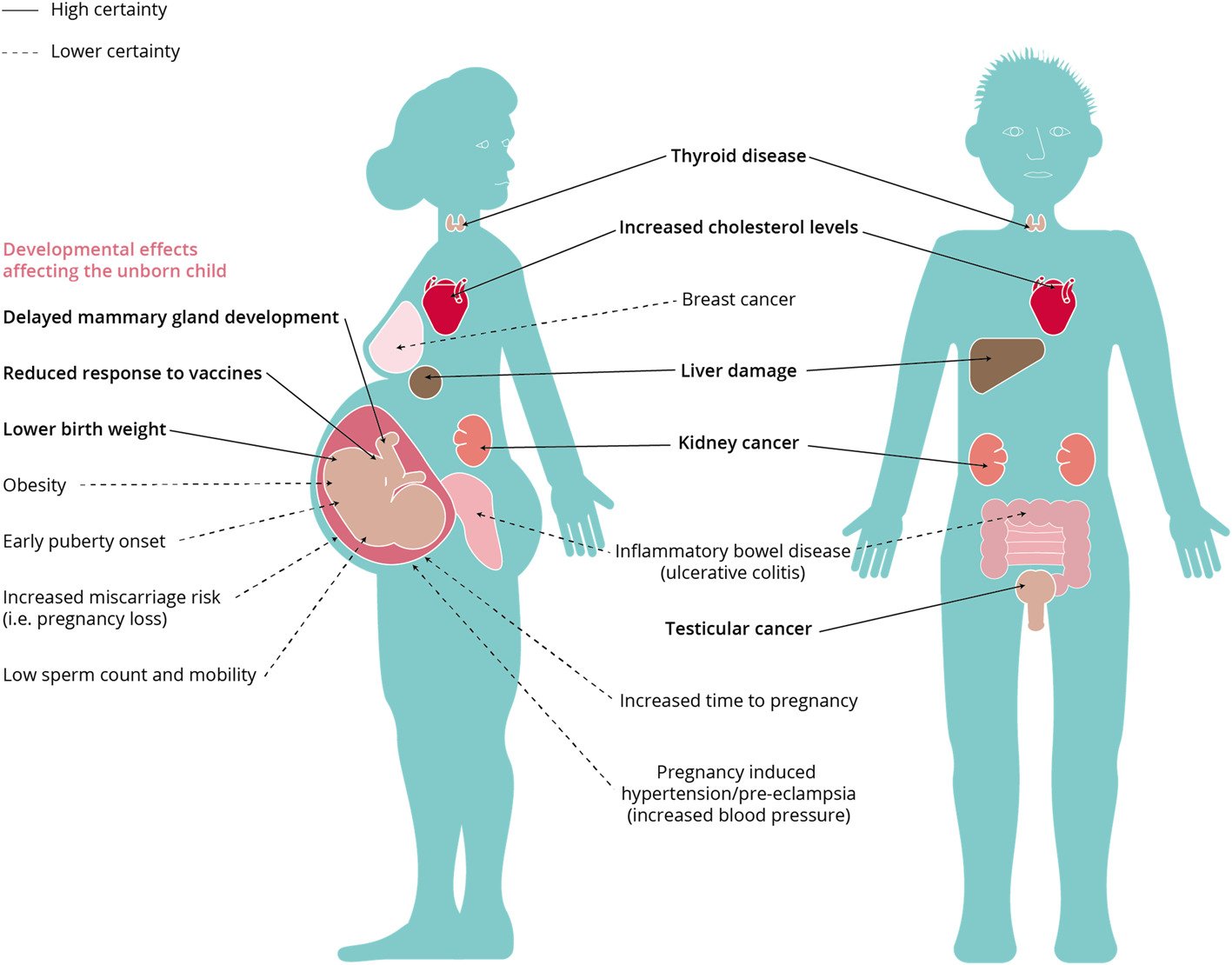 Table 2.
Health impacts from epidemiological studies

Cholesterol

 

Metabolic effects (insulin dysregulation)

 

Emerging longitudinal and diabetes clinical trial data indicate that PFAS may increase human insulin resistance, associated with dysregulated lipogenesis activity (71,75).

Immunological effects (vaccine response, asthma, and autoimmunity)

Liver function

Several studies demonstrate significant associations of long‐chain PFAS (>6 fluorinated carbons) exposure to higher liver enzymes, such as alanine aminotransferase in adults and adolescents (91,92,93,94,95,96,97,98). However, evidence to date is insufficient to link PFAS exposure with liver disease.

Kidney function (uric acid)

Several studies show a link between PFAS and reduced kidney function and increased uric acid levels in the blood (99,100,101,102,103).
However, reduced kidney function would cause an increase in both serum uric acid and serum PFAS concentrations (104); thus, the association between PFAS and kidney function could be influenced by reverse causation.

Endocrine function (thyroid disease)

Several studies demonstrate small associations between thyroid hormones and PFAS; however, the pattern of changes in levels of the different thyroid hormones are not consistent, and the clinical significance is not known (104).
Some studies note an association between various PFAS with thyroid hormone levels among susceptible populations such as pregnant women; however, the implications for maternal outcomes and foetal neurodevelopmental are not known (105,106,107).

Neonatal, infant, and maternal outcomes

Reproductive outcomes

Cancer

The International Agency for Research on Cancer (IARC) has classified PFOA as possibly carcinogenic (24) and USA EPA has concluded that both PFOA and PFOS are possibly carcinogenic to humans (150,151,152).
Toxicokinetics of PFAS compounds
The adverse health effects of PFAS are related to the unique toxicokinetic properties of PFAS compounds (Table 3), which allow them to bioaccumulate and persist in the body for many years. These toxicokinetic properties often vary with chain length, branching and chemical composition (155,156). However, due to the vast number of compounds, toxicokinetic data does not exist for most PFAS chemicals (157).
The uptake and elimination of PFAS varies depending on several factors including age, race, menstrual status, childbirth, and breast-feeding status (14).
Table 3. 
Absorption

Via oral, inhalation, and dermal exposure
Absorption ranges from >50% to >95%, depending on PFAS compound.

Distribution

Do not accumulate in adipose tissue due to hydrophobic and lipophobic properties.
Highest concentrations occur in the liver, kidneys, and blood (bound to albumin and other proteins).
Certain PFAS, including PFOA and PFOS, are transferred across the placenta to the foetus, and are found in breast milk.

Metabolism

Not biotransformed or metabolised in the body.

Excretion

Primarily eliminated in the urine, with smaller amounts eliminated in faeces and breast milk.
Long elimination half-life for long-chain PFAS (2 – 27 years).
Bioaccumulate in the body due to enterohepatic recirculation and renal tubular reabsorption.
Menstrual bleeding could be an important elimination pathway in women due to 90-99% of PFAS binding to serum albumin.
Mechanisms of action
The mechanisms of action by which PFAS may cause adverse biological effects are not well understood. However, PFAS are known endocrine disruptors, and many of their effects are believed to occur through modulating nuclear receptors, such as oestrogen receptors and peroxisome proliferator-activated receptors (PPARs) (158,159).
Experimental studies demonstrate that several PFAS can activate various PPARs (PPARα, PPARγ, PPARβ/δ) which regulate energy homeostasis, lipid and glucose metabolism, adipocyte differentiation and function, inflammation, and metabolism and function of sex steroids (160,161,162,163,164). Activation by PPARα activating compounds by PFOA causes liver tumours in animals (22).
In addition to PPAR activation, experimental evidence suggests that lipid-and liver enzyme-related metabolic disturbances result from alteration of lipid transport- and metabolism-related genes. Alteration of these genes induce adipogenesis, impair bile acid metabolism/ synthesis, alter fatty acid transport, and cause lipid accumulation in the liver (165,166,167,168,169,170,171,172).
PFAS can impair thyroid hormone signalling, increase metabolic excretion, and inhibit thyroid hormones synthesis (108). PFAS can interact with thyroid hormone-binding proteins (173) and impair thyroid peroxidase enzyme activity, resulting in decreased production and activation of thyroid hormones (174).
Some PFAS may have oestrogenic activity, and mechanisms of action may involve increased oestrogen levels (22). Animal studies suggest that PFOA promotes liver tumour development through an oestrogenic mechanism (175,176,177).
There is insufficient evidence to assess whether PFAS can directly interact with DNA to cause damage; however, PFAS may have indirect mechanisms of action which can induce epigenetic alterations and influence cell proliferation and increase cancer risk (178).
Takeaway on PFAS
PFAS have become a serious global health concern due to their high stability, ubiquitous presence in the environment, bioaccumulation and biomagnification potential, and potential toxicity.
Early PFAs chemicals are being replaced by newer novel compounds that may be more persistent and mobile, less degradable, and equally or more toxic. 
Ongoing exposure to even relatively low drinking water concentrations of long-chain PFAS substantially increases human body burdens, which remain elevated for many years after exposure ends. Additionally, infants, a sensitive subpopulation, receive much higher exposures than adults from the same drinking water source. 
The health effects of PFAS compounds are not well understood. Due to the large number of PFAS continuously being detected at trace levels in the environment, it is challenging to quantify each compound's exposure rates or effects. 
Early PFAS chemicals, known as PFOS and PFOA, are linked to cancer, high cholesterol, low birth weight, immune suppression, thyroid disease, and other health effects. While these two chemicals are being phased out, they remain ubiquitous in drinking water, soil, food, and air. 
More research is urgently required to understand the mode of action for PFAS toxicity, PFAS toxicokinetics, and adverse health effects that might occur at environmentally relevant exposures, especially at sensitive life stages. 
There has been little scientific research into clinical detoxification of PFAS and minimising ongoing exposure to these compounds is the best approach to improve health outcomes. 
Click here for a Patient Handout guide to avoiding toxic PFAS chemicals.