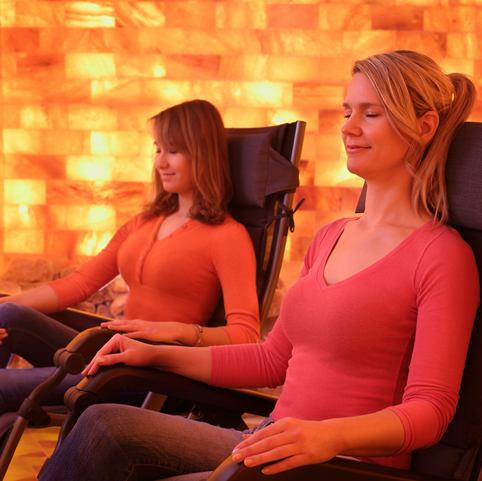 Halotherapy, or treatment with salt, comes from the Greek word "halos," which means salt. Halotherapy involves man-made structures that replicate the environment of the salt caves of speleotherapy and is considered a natural, non-invasive treatment. Speleotherapy comes from the Greek word "speleo," for cave, and refers to salt-lined caves where patients would sit.
Halotherapy has been used for asthma, bronchitis, eczema, psoriasis, and sinusitis.
There is insufficient reliable evidence about the efficacy of halotherapy.
Natural Medicines rates effectiveness based on scientific evidence according to the following scale: Effective, Likely Effective, Possibly Effective, Possibly Ineffective, Likely Ineffective, Ineffective, and Insufficient Evidence to Rate.
General: Some reports indicate that side effects from halotherapy may include pruritis, conjunctivitis, throat irritation, and mild sedation.
Pulmonary/Respiratory: Throat irritation has been reported after halotherapy.
Ocular/Otic: Conjunctivitis has been reported after halotherapy.
Neurologic/CNS: Mild sedation has been reported after halotherapy.
Dermatologic: Pruritis has been reported after halotherapy.
Interactions with pharmaceuticals
Interactions with herbs & supplements
Interactions with lab tests
Interactions with diseases
It is theorized that the salt used in halotherapy may help maintain air humidity and eliminate bacteria. Inhaling tiny aerosolized particles of salt is purported to help clear mucus in the airway and prevent inflammation. These properties are believed by some to improve respiratory conditions and relieve some skin conditions.
vital.ly has licensed professional monographs from TRC Healthcare. Full monographs are available to
Pro
practitioner accounts.
This monograph was last reviewed on 05/05/2015 17:04:41 and last updated on 05/05/2015 00:23:47. Monographs are reviewed and/or updated multiple times per month and at least once per year.
Natural Medicines disclaims any responsibility related to medical consequences of using any medical product. Effort is made to ensure that the information contained in this monograph is accurate at the time it was published. Consumers and medical professionals who consult this monograph are cautioned that any medical or product related decision is the sole responsibility of the consumer and/or the health care professional. A legal License Agreement sets limitations on downloading, storing, or printing content from this Database. No reproduction of this monograph or any content from this Database is permitted without written permission from the publisher. It is unlawful to download, store, or distribute content from this site.