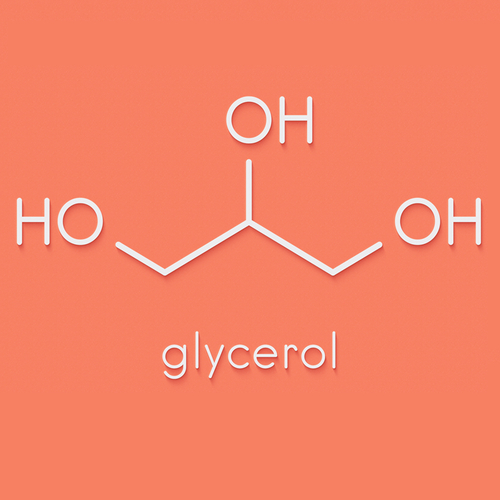 Alternate names: Alcool Glycériné, Glicerol, Glucerite, Glycerin, Glycérine, Glycérine Végétale, Glycerol Monostearate, Glycérol, Glycerolum, Glyceryl Alcohol, Monostéarate de Glycérol, Vegetable Glycerin
Glycerol is a naturally occurring alcohol. It is an odorless liquid that is used as a solvent, sweetening agent, and also as medicine.

When glycerol is in the intestines, it attracts water into the gut, softening stools and relieving constipation. When glycerol is in the blood, it attracts water so that the water stays in the body longer. This might help an athlete exercise for longer.

People use glycerol for constipation, improving athletic performance, and for certain skin conditions. It is also used for stroke, obesity, ear infections, and many other conditions, but there is no good scientific evidence to support these uses.

Glycerol is banned by the World Anti-Doping Agency (WADA).
When taken by mouth: Glycerol is possibly safe when used short-term. Side effects might include headaches, dizziness, bloating, nausea, and diarrhea.

When applied to the skin: Glycerol is likely safe. It might cause redness, itching, and burning.

When given in the rectum: Glycerol suppositories and enemas are likely safe and have been approved by the US Food and Drug Administration (FDA) for over-the-counter (OTC) use.


Special Precautions & Warnings:
Pregnancy and breast-feeding: There isn't enough reliable information to know if glycerol is safe to use when pregnant or breast-feeding. Stay on the safe side and avoid use.

Children: Glycerol is likely safe when suppositories or enemas are inserted into the rectum in children at least 2 years of age. Glycerol is also likely safe when applied to the skin of children at least 1 month of age. Glycerol is possibly safe when taken by mouth, short-term in children 2 months to 16 years of age.
Glycerol has most often been used by adults in single doses of 1-1.5 grams/kg. It's also commonly used in over-the-counter (OTC) rectal enemas and suppositories, and in topical lotions. Speak with a healthcare provider to find out what type of product and dose might be best for a specific condition.
Interactions with pharmaceuticals
It is not known if Glycerol interacts with any medicines. Before taking Glycerol, talk with your healthcare professional if you take any medications.
Interactions with herbs & supplements
There are no known interactions with herbs and supplements.
There are no known interactions with foods.
vital.ly has licensed monographs from TRC Healthcare.
This monograph was last reviewed on 29/06/2023 10:00:00. Monographs are reviewed and/or updated multiple times per month and at least once per year.
Natural Medicines disclaims any responsibility related to medical consequences of using any medical product. Effort is made to ensure that the information contained in this monograph is accurate at the time it was published. Consumers and medical professionals who consult this monograph are cautioned that any medical or product related decision is the sole responsibility of the consumer and/or the health care professional. A legal License Agreement sets limitations on downloading, storing, or printing content from this Database. No reproduction of this monograph or any content from this Database is permitted without written permission from the publisher. It is unlawful to download, store, or distribute content from this site.