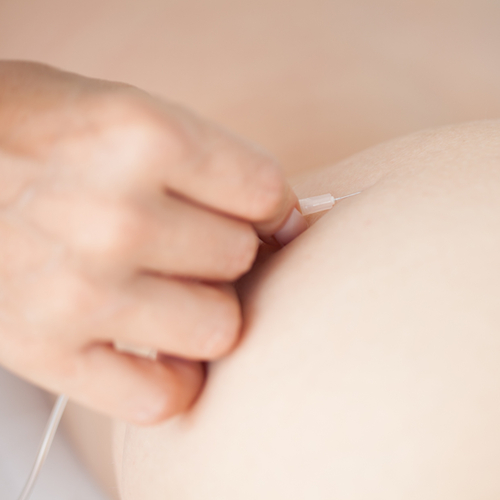 Carbon dioxide therapy, or carboxytherapy, is a non-surgical technique that involves injecting carbon dioxide (a colorless, odorless gas) beneath the skin. It is one of the more recent techniques used for various cosmetic purposes and is usually administered with liposuction.
Carbon dioxide therapy has been used for cosmetic reasons and also medical conditions such as rheumatism, psoriasis, Raynaud's disease, and Beurger's disease.
There is insufficient reliable evidence about the safety of carbon dioxide therapy for any condition.
Natural Medicines rates effectiveness based on scientific evidence according to the following scale: Effective, Likely Effective, Possibly Effective, Possibly Ineffective, Likely Ineffective, Ineffective, and Insufficient Evidence to Rate.
General: Side effects of carbon dioxide therapy are generally localized and short-term. They include pain, tingling, warmth, and bruising at the injection site.
Interactions with pharmaceuticals
Interactions with herbs & supplements
Interactions with lab tests
Interactions with diseases
Cellulite refers to fat deposits under the skin that make skin look lumpy and dimpled, typically in soft tissue areas, such as the thighs and belly. Carbon dioxide therapy has been theorized to reduce cellulite, reduce scarring, lighten dark circles under the eyes and improve other skin irregularities. Proponents theorize that carbon dioxide therapy may improve circulation and may break down fat cells. Once the carbon dioxide has entered the subcutaneous tissue, it quickly spreads into the surrounding subcutaneous tissues.
vital.ly has licensed professional monographs from TRC Healthcare. Full monographs are available to
Pro
practitioner accounts.
This monograph was last reviewed on 23/04/2015 16:19:23 and last updated on 11/08/2015 15:47:59. Monographs are reviewed and/or updated multiple times per month and at least once per year.
Natural Medicines disclaims any responsibility related to medical consequences of using any medical product. Effort is made to ensure that the information contained in this monograph is accurate at the time it was published. Consumers and medical professionals who consult this monograph are cautioned that any medical or product related decision is the sole responsibility of the consumer and/or the health care professional. A legal License Agreement sets limitations on downloading, storing, or printing content from this Database. No reproduction of this monograph or any content from this Database is permitted without written permission from the publisher. It is unlawful to download, store, or distribute content from this site.