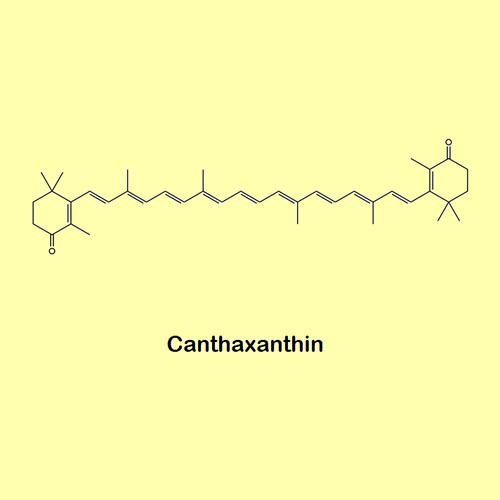 Canthaxanthin is a dye that is similar to the chemical that makes carrots orange. It occurs naturally and can also be made in a laboratory. People use it as medicine.

Canthaxanthin is used to reduce sensitivity to sunlight (photosensitivity) experienced by people who have a rare genetic disease called erythropoietic protoporphyria (EPP). In these people, sunlight can cause skin reactions such as rash, itch, and eczema. Canthaxanthin is also used to reduce sun sensitivity caused by certain medications and other conditions, but there is no good scientific evidence to support these uses.

Orobronze (canthaxanthin) is sold in Canada as a nonprescription "tanning pill." In the U.S., the Food and Drug Administration (FDA) has not approved tanning pills containing canthaxanthin. Nevertheless, these products seem to be readily available to people in the U.S. through mail order and tanning salons.

In foods, canthaxanthin is used as food coloring and is added to animal feed to improve the color of chicken skins, egg yolks, salmon, and trout.

In manufacturing, canthaxanthin is used in cosmetics and in medications.
When taken by mouth: Canthaxanthin is LIKELY SAFE when taken by mouth in food amounts. However, it is LIKELY UNSAFE when taken by mouth in amounts needed for artificial tanning. Some people who have taken canthaxanthin for these purposes have experienced eye damage and vision loss.

At high doses, canthaxanthin has caused a serious, potentially fatal blood disorder called aplastic anemia. Canthaxanthin can also cause diarrhea, nausea, stomach cramps, dry and itchy skin, hives, orange or red body secretions, and other side effects.
Special Precautions & Warnings:
Pregnancy and breast-feeding: Canthaxanthin is POSSIBLY UNSAFE for pregnant or breast-feeding women when taken by mouth in small medicinal amounts. It's LIKELY UNSAFE when taken by mouth in large amounts needed to produce a tan. It can cause eye damage and other harmful effects.

Vitamin A allergy: People who are allergic to vitamin A and related chemicals called carotenoids might also be sensitive to canthaxanthin.
The following doses have been studied in scientific research:
BY MOUTH
:
For an inherited disorder marked by sensitivity to light (erythropoietic protoporphyria or EPP): 60 to 90 mg of canthaxanthin daily on average for three to five months per year.
Interactions with pharmaceuticals
It is not known if Canthaxanthin interacts with any medicines. Before taking Canthaxanthin, talk with your healthcare professional if you take any medications.
Interactions with herbs & supplements
There are no known interactions with herbs and supplements.
There are no known interactions with foods.
Canthaxanthin is a dye similar to the carotenes in vegetables such as carrots. It deposits in the skin to produce an artificial "tan." It might protect against sun sensitivity through antioxidant activity.
vital.ly has licensed monographs from TRC Healthcare.
This monograph was last reviewed on 28/12/2022 19:27:49 and last updated on 05/12/2014 00:09:51. Monographs are reviewed and/or updated multiple times per month and at least once per year.
Natural Medicines disclaims any responsibility related to medical consequences of using any medical product. Effort is made to ensure that the information contained in this monograph is accurate at the time it was published. Consumers and medical professionals who consult this monograph are cautioned that any medical or product related decision is the sole responsibility of the consumer and/or the health care professional. A legal License Agreement sets limitations on downloading, storing, or printing content from this Database. No reproduction of this monograph or any content from this Database is permitted without written permission from the publisher. It is unlawful to download, store, or distribute content from this site.