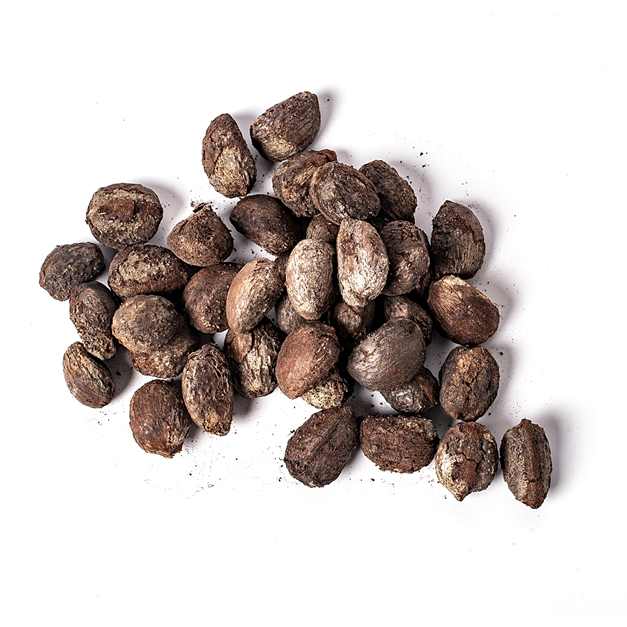 Scientific names: Aleurites moluccanus, Aleurites javanicus, Aleurites pentaphyllus, Aleurites remyi, Aleurites trilobus, Jatropha moluccana
Alternate names: Abrasin, Arbol Candil, Arbre à Huile du Japon, Balucanat, Candleberry, Candleberry Tree, Country Walnut, Indian Walnut, Kukui, Noix d'Abrasin, Noix de Bancoulier, Noyer de Bancoule, Noyer des Moluques, Nuez de la India, Otaheite Walnut, Varnish Tree
Candlenut is the seed of the fruit produced by the candlenut tree (Aleurites moluccanus). The seed, seed oil, and kernel have sometimes been used as medicine.

While candlenuts resemble walnuts in appearance, candlenuts are extremely poisonous, even deadly, if they are eaten raw or undercooked. Candlenut contains various substances that might stimulate the bowels and cause sweating. It also contains toxic chemicals, such as cyanide.

People use candlenut for asthma and constipation and to encourage hair growth, but there is no good scientific evidence to support these uses. Using candlenut can also be unsafe.
When taken by mouth: Candlenut is unsafe. It contains a chemical similar to cyanide as well as other poisons. Even one seed might cause severe poisoning. Candlenut can cause extreme stomach pain, violent vomiting, breathing problems, and possibly death.

When applied to the skin: There isn't enough reliable information to know if candlenut is safe or what the side effects might be.


Special Precautions & Warnings:
Pregnancy and breast-feeding: It's unsafe for anyone to take candlenut by mouth. If you are pregnant or breast-feeding, it could harm you as well as your baby.
There isn't enough reliable information to know what an appropriate dose of candlenut might be. Keep in mind that natural products are not always necessarily safe and dosages can be important. Be sure to follow relevant directions on product labels and consult a healthcare professional before using.
Interactions with pharmaceuticals
It is not known if Candlenut interacts with any medicines. Before taking Candlenut, talk with your healthcare professional if you take any medications.
Interactions with herbs & supplements
There are no known interactions with herbs and supplements.
There are no known interactions with foods.
vital.ly has licensed monographs from TRC Healthcare.
This monograph was last reviewed on 29/12/2022 18:33:30 and last updated on 25/04/2022 03:11:41. Monographs are reviewed and/or updated multiple times per month and at least once per year.
Natural Medicines disclaims any responsibility related to medical consequences of using any medical product. Effort is made to ensure that the information contained in this monograph is accurate at the time it was published. Consumers and medical professionals who consult this monograph are cautioned that any medical or product related decision is the sole responsibility of the consumer and/or the health care professional. A legal License Agreement sets limitations on downloading, storing, or printing content from this Database. No reproduction of this monograph or any content from this Database is permitted without written permission from the publisher. It is unlawful to download, store, or distribute content from this site.