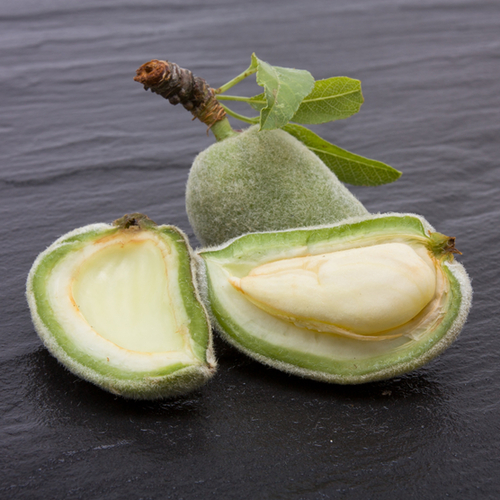 Scientific names: Prunus amygdalus var. amara, Amygdalus communis var. amara, Amygdalus dulcis var. amara, Prunus communis var. amara, Prunus dulcis var. amara
Alternate names: Almendra Amarga, Almendro Amargo, Amande Amère, Amandier Amer, Amandier a Fruits Amers, Amendoa Amarga, Amygdala Amara, Bitter Almond Oil, Bitter Almond Tree, Bittere Amandel, Bittere Mandel, Bittere Mandeln, Bittere-Amandelboom, Bittermandel, Bittermandelbaum, Bittermandeltae, Bittermandeltraed, Huile d'Amande Volatile, Huile d'Amande Amère, Karvasmanteli, Mandorla Amara, Mandorlo Amaro, Mindal' Gor'kii, Semen Armeniacae Amarum, Volatile Almond Oil
Actions: Analgesic, Anticancer, Immunomodulatory
Bitter almond (Prunus amygdalus var. amara) is a type of almond. It contains a toxic chemical called amygdalin, which is poisonous when consumed.

The amygdalin in bitter almond turns into poisonous hydrocyanic acid (HCN) in the body. This chemical slows down the nervous system and causes serious breathing problems. Sweet almond (Prunus dulcis), which is the type of almond that is commonly eaten, doesn't contain these toxins.

People apply bitter almond for stretch marks and other conditions, but there is no good scientific evidence to support these uses.

Don't confuse bitter almond with sweet almond or apricot kernel. These are not the same.
When taken by mouth: Bitter almond is likely unsafe. It contains a poisonous chemical that can cause serious side effects, such as slowing of the nervous system, breathing problems, and death.

When applied to the skin: There isn't enough reliable information to know if bitter almond is safe or what the side effects might be.


Special Precautions & Warnings:
Pregnancy and breast-feeding: Bitter almond is likely unsafe when taken by mouth while pregnant or breast-feeding. There isn't enough reliable information to know if bitter almond is safe when applied to the skin. Stay on the safe side and avoid any use.

Surgery: Bitter almond can slow down the nervous system. Anesthesia and other drugs used during surgery do this as well. Using bitter almond along with these medications can slow down the central nervous system too much. Stop using bitter almond at least 2 weeks before a scheduled surgery.

Allergies to peanuts and tree nuts: People with peanut allergies are more likely to be allergic to nuts called "tree nuts." Bitter almond is a tree nut. People who are allergic to one tree nut are also more likely to have an allergy to at least one other tree nut. Avoid eating any tree nuts unless you know that you are not allergic to them.
There isn't enough reliable information to know what an appropriate dose of bitter almond might be. Bitter almond might also be unsafe. Speak with a healthcare provider before use.
Interactions with pharmaceuticals
Sedative medications (CNS depressants)
Interaction Rating=Moderate Be cautious with this combination.
Bitter almond might cause sleepiness and slowed breathing. Some medications, called sedatives, can also cause sleepiness and slowed breathing. Taking bitter almond with sedative medications might cause breathing problems and/or too much sleepiness.
Interactions with herbs & supplements
There are no known interactions with herbs and supplements.
There are no known interactions with foods.
vital.ly has licensed monographs from TRC Healthcare.
This monograph was last reviewed on 26/07/2022 20:00:56 and last updated on 22/09/2014 19:00:21. Monographs are reviewed and/or updated multiple times per month and at least once per year.
Natural Medicines disclaims any responsibility related to medical consequences of using any medical product. Effort is made to ensure that the information contained in this monograph is accurate at the time it was published. Consumers and medical professionals who consult this monograph are cautioned that any medical or product related decision is the sole responsibility of the consumer and/or the health care professional. A legal License Agreement sets limitations on downloading, storing, or printing content from this Database. No reproduction of this monograph or any content from this Database is permitted without written permission from the publisher. It is unlawful to download, store, or distribute content from this site.