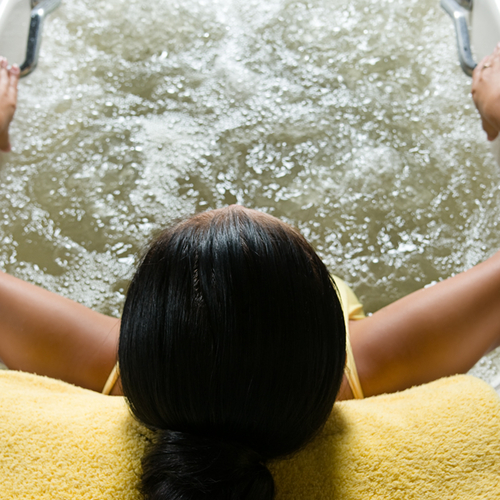 Alternate names: Bain de la Mer Morte, Bain Minéral, Bain de Soufre, Bain Thermal, Balneological Treatment, Balneoterapia, Balneotherapeutics, Balnéothérapie, Balneum, Bath Therapy, Bath Treatment, Crenobalneotherapy, Dead Sea Baths, Hydrotherapy, Low-Dose Radon Hyperthermia Balneo Treatment, Mineral Bath, Radon Balneotherapy, Spa Therapy, Sulfur Baths, Therapeutic Bathing, Thérapie Thermale, Thermal Baths, Thermal Mineral Baths, Thermal Therapy, Traitement par le Bain, Water Therapy
Balneotherapy is the use of heated (thermal) mineral water, containing different types of minerals or gases, for the treatment of medical conditions. Sometimes, other activities associated with "spa" treatments, including water baths, mineral baths, mud baths, drinking mineral waters, and other activities, are included. Minerals in the water can include sulfur, sodium, bicarbonate, magnesium, and many others.

Balneotherapy is used for back pain, fibromyalgia, and osteoarthritis. It is also used for other conditions, but there is no good scientific evidence to support these other uses.
Balneotherapy is LIKELY SAFE when used appropriately. There are no known safety concerns. Adverse effects are generally mild.
Special Precautions & Warnings:
Pregnancy: Balneotherapy that involves sudden or prolonged exposure to hot temperatures is POSSIBLY UNSAFE during pregnancy. Pregnant women are generally discouraged from using hot water baths or saunas. Not enough is known about the use of balneotherapy at lower temperatures during pregnancy. Stay on the safe side and avoid use.

Breast-feeding: There isn't enough reliable information to know if balneotherapy is safe to use when breast-feeding. Stay on the safe side and avoid use.

Children: Balneotherapy is POSSIBLY SAFE when used appropriately. Serious side effects have not been reported in scientific studies.
Balneotherapy involves spending time in a heated bath, which usually contains minerals. The length of time and number of bath sessions can vary substantially. There is no standard for treating certain conditions.

The appropriate or safe use of balneotherapy depends on several factors such as the condition being treated or the person administering the treatment. Be sure to seek and follow relevant directions from your physician or other healthcare professional before using this treatment.
Interactions with pharmaceuticals
It is not known if this treatment interacts with any medicines. Before using this treatment, talk with your health professional if you take any medications.
Interactions with herbs & supplements
There are no known interactions with herbs and supplements.
There are no known interactions with foods.
Balneotherapy means "bath therapy." It is used to describe many of the activities associated with "spa" treatments including water baths, mineral baths, mud baths, drinking mineral waters, and other activities. Balneotherapy is thought to have several effects including reducing swelling (inflammation), affecting the function of the immune system, and others.

Some people believe that the benefits of balneotherapy are due to the absorption of bath minerals through the skin. Others believe that it helps with blood flow to the muscles. But there is no scientific evidence to support this theory.

Balneotherapy may reduce pain because the water can reduce the pull of gravity on painful joints. Also, the warmth and calming effects of the water are thought to reduce stress and painful sensations.
vital.ly has licensed monographs from TRC Healthcare.
This monograph was last reviewed on 23/10/2022 20:07:21 and last updated on 30/12/2020 00:43:18. Monographs are reviewed and/or updated multiple times per month and at least once per year.
Natural Medicines disclaims any responsibility related to medical consequences of using any medical product. Effort is made to ensure that the information contained in this monograph is accurate at the time it was published. Consumers and medical professionals who consult this monograph are cautioned that any medical or product related decision is the sole responsibility of the consumer and/or the health care professional. A legal License Agreement sets limitations on downloading, storing, or printing content from this Database. No reproduction of this monograph or any content from this Database is permitted without written permission from the publisher. It is unlawful to download, store, or distribute content from this site.