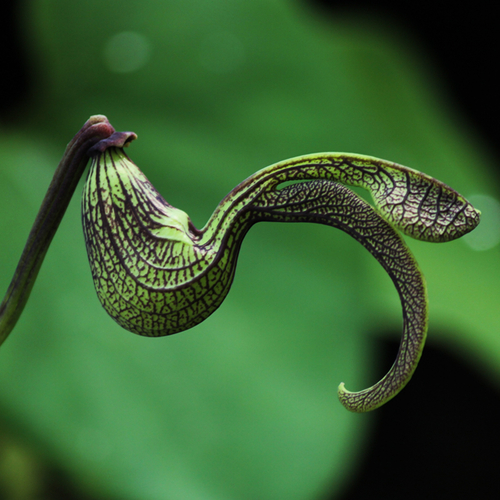 Scientific names: Aristolochia auricularia, Aristolochia clematitis, Aristolochia fangchi, Aristolochia heterophylla, Aristolochia kwangsiensis, Aristolochia manshuriensis, Aristolochia moupinensis, Aristolochia reticulata, Aristolochia serpentaria
Alternate names: Aristoloche, Aristoloche Clématite, Aristoloche de Texas, Aristoloche des Vignes, Aristoloche de Virginie, Aristoloche Vulgaire, Aristoloquia, Birthwort, Guan Mu Tong, Guang Fang Ji, Long Birthwort, Pelican Flower, Poison de Terre, Pomerasse, Ratelaine, Rateline, Red River Snakeroot, Sangree Root, Sangrel, Sarrasine, Serpentaire, Serpentaire de la Rivière Rouge, Serpentaria, Snakeroot, Snakeweed, Texas Snakeroot, Virginia Serpentary, Virginia Snakeroot
Actions: Antibacterial activity, Anti-inflammatory activity, Antimicrobial activity, Antineoplastic activity, Antioxidant activity, Antivenom, Cardiovascular activity, Immunomodulatory activity, Insecticidal activity, Muscarinic activity, Neurologic activity, Neurotrophic, Opiate withdrawal reduction activity, Oxytocics activity, Smooth muscle relaxant activity, Trypanocidal activity
Aristolochia is a plant. The parts that grow above the ground and the root are used to make medicine.

Despite serious safety concerns, aristolochia is sometimes used by mouth to prevent seizures, increase sexual desire, boost the immune system, and start menstruation, but there is no good scientific evidence to support these uses.
When taken by mouth: Aristolochia is UNSAFE. It contains aristolochic acid, which is toxic to the kidneys and causes cancer. Using aristolochia can cause kidney damage leading to the need for kidney dialysis and kidney transplant. It also greatly increases the risk of bladder cancer and other urinary tract cancers.

Health authorities around the world have taken action to protect the public against aristolochia and aristolochic acid. Aristolochia is banned in the United States, Canada, Germany, Austria, France, Great Britain, Belgium, and Japan. In the U.S., the Food and Drug Administration (FDA) seizes any product that it believes might contain aristolochic acid.
Special Precautions & Warnings:
Pregnancy and breast-feeding: Aristolochia is UNSAFE for anyone to use, including pregnant and breast-feeding women. Aristolochia contains aristolochic acid, which is toxic to the kidneys and causes cancer. Don't use it.

Kidney disease: Aristolochia might bring on early kidney failure in people with kidney disease.
The appropriate dose of aristolochia depends on several factors such as the user's age, health, and several other conditions. At this time there is not enough scientific information to determine an appropriate range of doses for aristolochia. Keep in mind that natural products are not always necessarily safe and dosages can be important. Be sure to follow relevant directions on product labels and consult your pharmacist or physician or other healthcare professional before using.
Interactions with pharmaceuticals
Medications that can harm the kidneys (Nephrotoxic Drugs)
Interaction Rating=Moderate Be cautious with this combination.
Aristolochia damages the kidneys. Some medications can also damage the kidneys. Taking aristolochia with other medications that can harm the kidneys can increase kidney damage.
Some of these medications that can harm the kidneys include cyclosporine (Neoral, Sandimmune); aminoglycosides including amikacin (Amikin), gentamicin (Garamycin, Gentak, others), and tobramycin (Nebcin, others); nonsteroidal anti-inflammatory drugs (NSAIDs) including ibuprofen (Advil, Motrin, Nuprin, others), indomethacin (Indocin), naproxen (Aleve, Anaprox, Naprelan, Naprosyn), piroxicam (Feldene); and numerous others.Before taking this product, talk with your health professional if you take any medications.
Interactions with herbs & supplements
There are no known interactions with herbs and supplements.
There are no known interactions with foods.
There isn't enough information to know how aristolochia works.
vital.ly has licensed monographs from TRC Healthcare.
This monograph was last reviewed on 14/01/2022 23:57:17 and last updated on 12/08/2014 21:13:10. Monographs are reviewed and/or updated multiple times per month and at least once per year.
Natural Medicines disclaims any responsibility related to medical consequences of using any medical product. Effort is made to ensure that the information contained in this monograph is accurate at the time it was published. Consumers and medical professionals who consult this monograph are cautioned that any medical or product related decision is the sole responsibility of the consumer and/or the health care professional. A legal License Agreement sets limitations on downloading, storing, or printing content from this Database. No reproduction of this monograph or any content from this Database is permitted without written permission from the publisher. It is unlawful to download, store, or distribute content from this site.