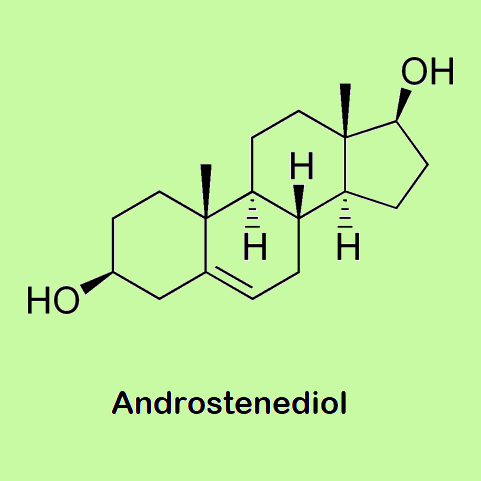 Alternate names: 4-AD; 4-Androstenediol; 4-Androstènediol, 5-AD; 5-Androstenediol; 5-Androstènediol; Androdiol; Androstènediol
Actions: Antineoplastic activity, Body building, Hormone regulation activity, Immunostimulation activity, Lipid lowering (HDL-C) activity, Mood enhancement, Sexual activity enhancement
Androstenediol is a type of chemical known as a steroid. It is converted in the body to testosterone and other sex hormones.

Androstenediol used to be available as a dietary supplement in the U.S. But it has been reclassified as a schedule III controlled substance. This means androstenediol is available only as a prescription medicine, and physicians have to follow strict rules when prescribing it. It is banned by the World Anti-Doping Agency (WADA) and the National Collegiate Athletic Association (NCAA) for use by athletes.

Androstenediol is used to increase testosterone levels in the body to improve athletic performance, to enhance response to sexual stimuli in healthy people, to improve sexual problems that prevent satisfaction during sexual activity, and other conditions, but there is no good scientific evidence to support these uses. Androstendiol might also be unsafe.
When taken by mouth: Androstenediol is POSSIBLY UNSAFE for most people when taken by mouth. There is some concern that products can vary from what is listed on the label. Women who take androstenediol might develop some male characteristics including deepening of the voice, facial hair growth, acne, abnormal menstrual periods, male-pattern baldness, thickening of the skin, and depression.
Special Precautions & Warnings:
Pregnancy and breast-feeding: There isn't enough reliable information to know if androstenediol is safe to use when pregnant or breast-feeding. Stay on the safe side and avoid use.

Heart disease: There is some concern that androstenediol might increase the risk of coronary heart disease.

Hormone-sensitive conditions such as breast cancer, uterine cancer, ovarian cancer, endometriosis, or uterine fibroids: Androstenediol can increase levels of hormones such estrone, estradiol, and testosterone. If you have any condition that might be made worse by exposure to these hormones, don't use androstenediol.

Prostate cancer and benign prostatic hypertrophy (BPH): Androstenediol can increase testosterone levels. There is also developing evidence that androstenediol might help prostate cancer cells grow. If you have a prostate condition, don't use androstenediol.
The appropriate dose of androstenediol depends on several factors such as the user's age, health, and several other conditions. At this time there is not enough scientific information to determine an appropriate range of doses for androstenediol. Keep in mind that natural products are not always necessarily safe and dosages can be important. Be sure to follow relevant directions on product labels and consult your pharmacist or physician or other healthcare professional before using.
Interactions with pharmaceuticals
Estrogens
Interaction Rating=Moderate Be cautious with this combination.
Androstenediol seems to increase estrogen levels in the body. Taking androstenediol along with estrogen pills might cause too much estrogen in the body.

Some estrogen pills include conjugated equine estrogens (Premarin), ethinyl estradiol, estradiol, and others.
Testosterone
Interaction Rating=Moderate Be cautious with this combination.
The body changes androstenediol into testosterone. Taking androstenediol with a testosterone pill might cause there to be too much testosterone in the body. This might increase the chance of testosterone side effects.
Interactions with herbs & supplements
There are no known interactions with herbs and supplements.
There are no known interactions with foods.
Androstenediol is a steroid hormone used by the body to make testosterone and estrogen.
vital.ly has licensed monographs from TRC Healthcare.
This monograph was last reviewed on 23/11/2022 00:30:44 and last updated on 05/08/2020 01:50:53. Monographs are reviewed and/or updated multiple times per month and at least once per year.
Natural Medicines disclaims any responsibility related to medical consequences of using any medical product. Effort is made to ensure that the information contained in this monograph is accurate at the time it was published. Consumers and medical professionals who consult this monograph are cautioned that any medical or product related decision is the sole responsibility of the consumer and/or the health care professional. A legal License Agreement sets limitations on downloading, storing, or printing content from this Database. No reproduction of this monograph or any content from this Database is permitted without written permission from the publisher. It is unlawful to download, store, or distribute content from this site.