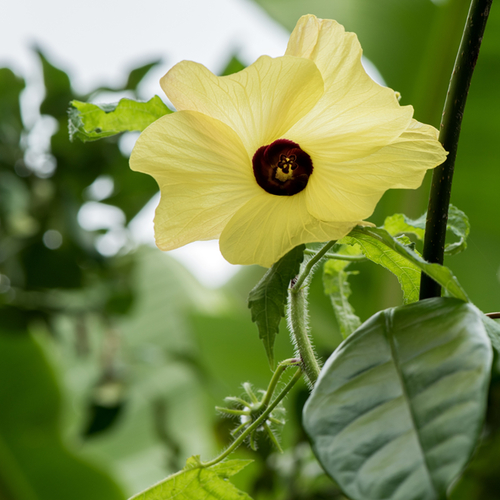 Scientific names: Abelmoschus moschatus, Hibiscus abelmoschus
Alternate names: Abelmosco, Abelmosk, Ambretta, Ambrette Plant, Egyptian Alcee, Gandapura, Graine d'Ambrette, Hibisco, Kasturidana, Kasturilatika, Kasturi Bhendi, Ketmie Musquée, Latakasthuri, Latakasturi, Lata Kasturi, Lathakasthuri, Mushkdana, Muskadana, Muskmallow, Musk-Mallow, Musk Seed, Okra, Target-Leaved Hibiscus, Tindisha
Actions: Antidiabetic, Opioid
Ambrette is a plant. The seed of the plant, typically prepared as a tea, is used to make medicine. Oil from the ambrette seed has a musky aroma.

Orally, ambrette is used for stomach and intestinal disorders such as constipation, nausea, vomiting, upset stomach (dyspepsia), stomach cramps, loss of appetite, and stomach cancer.

It is also used orally for snakebites, headaches, depression, muscle spasms, arthritis, urinary incontinence, anxiety, sexual problems, gonorrhea, fluid retention, heart failure, and lung problems.

In foods, ambrette is an ingredient in vermouths, bitters, and other products.

In manufacturing, ambrette is used in perfumes, colognes, soaps, detergents, creams, and lotions. It has a musky fragrance.
Ambrette is LIKELY SAFE when taken by mouth in amounts found in food. The safety of taking larger amounts by mouth or applying ambrette to the skin is unknown. In some people, ambrette can cause skin irritation.
Special Precautions & Warnings:
Pregnancy and breast-feeding: There is not enough reliable information about the safety of taking ambrette if you are pregnant. Stay on the safe side and avoid use.

It is POSSIBLY UNSAFE for nursing mothers to take ambrette by mouth or apply it to the skin. Ambrette seems to stay in mother's milk, but the importance of this is unknown.

Diabetes: Myricetin, a chemical in ambrette, can affect blood sugar levels in people with diabetes. Watch for signs of low blood sugar (hypoglycemia) and monitor your blood sugar carefully, if you have diabetes and use ambrette in amounts larger than the amounts normally found in food.

Surgery: Myricetin, a chemical in ambrette, might affect blood sugar and might interfere with blood sugar control during and after surgery. Stop taking ambrette at least 2 weeks before a scheduled surgery.
The appropriate dose of ambrette depends on several factors such as the user's age, health, and several other conditions. At this time there is not enough scientific information to determine an appropriate range of doses for ambrette. Keep in mind that natural products are not always necessarily safe and dosages can be important. Be sure to follow relevant directions on product labels and consult your pharmacist or physician or other healthcare professional before using.
Interactions with pharmaceuticals
Medications for diabetes (Antidiabetes drugs)
Interaction Rating=Moderate Be cautious with this combination.
Myricetin, a chemical in ambrette, might lower blood sugar. Diabetes medications are also used to lower blood sugar. Taking ambrette along with diabetes medications might cause your blood sugar to go too low. Monitor your blood sugar closely. The dose of your diabetes medication might need to be changed.

Some medications used for diabetes include glimepiride (Amaryl), glyburide (DiaBeta, Glynase PresTab, Micronase), insulin, metformin (Glucophage), pioglitazone (Actos), rosiglitazone (Avandia), chlorpropamide (Diabinese), glipizide (Glucotrol), tolbutamide (Orinase), and others.
Interactions with herbs & supplements
Herbs and supplements that might lower blood sugar: Myricetin, a chemical in ambrette, might lower blood sugar levels. Taking it along with other herbs and supplements that might lower blood sugar could cause your blood sugar to drop too much. Some herbs and supplements that might lower blood sugar include alpha-lipoic acid, bitter melon, chromium, devil's claw, fenugreek, garlic, guar gum, horse chestnut, Panax ginseng, psyllium, Siberian ginseng, and others.
There are no known interactions with foods.
Some laboratory research shows that certain ambrette seed and leaf extracts have antioxidant, anticancer, and antibacterial properties.
vital.ly has licensed monographs from TRC Healthcare.
This monograph was last reviewed on 30/03/2023 11:00:00 and last updated on 03/12/2014 00:37:24. Monographs are reviewed and/or updated multiple times per month and at least once per year.
Natural Medicines disclaims any responsibility related to medical consequences of using any medical product. Effort is made to ensure that the information contained in this monograph is accurate at the time it was published. Consumers and medical professionals who consult this monograph are cautioned that any medical or product related decision is the sole responsibility of the consumer and/or the health care professional. A legal License Agreement sets limitations on downloading, storing, or printing content from this Database. No reproduction of this monograph or any content from this Database is permitted without written permission from the publisher. It is unlawful to download, store, or distribute content from this site.