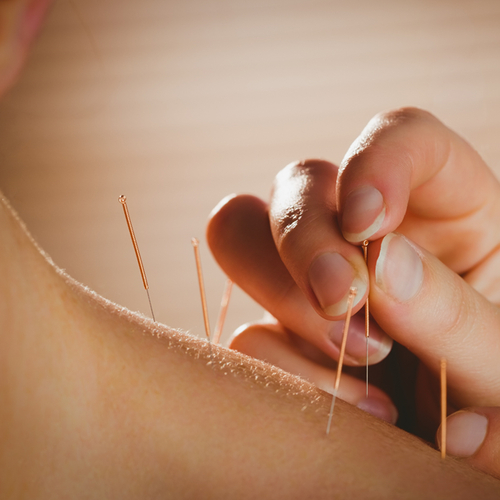 Alternate names: Acuponcture, Acuponcture Auriculaire, Acuponcture Chinoise, Acuponcture Coréenne, Acuponcture Japonaise, Acuponcture de la Main, Acuponcture Occidentale, Acuponcture de l'Oreille, Acuponcture du Pied, Acupuntura, Auricular Acupuncture, Chinese Acupuncture, Ear Acupuncture, Electroacupuncture, Foot Acupuncture, Hand Acupuncture, Japanese Acupuncture, Korean Acupuncture, Laser Acupuncture, Medical Acupuncture, Needle Moxibustion, Single Point Acupuncture, Thread Embedding Acupuncture, Trigger Point Acupuncture, Western Acupuncture
Acupuncture is an ancient therapy that involves stimulating points on the body called meridians with fine needles or by applying electric currents or heat.

Acupuncture originated in China over 2,000 years ago as part of traditional Chinese medicine (TCM). In TCM, it's believed that disease is caused by an imbalanced or blocked flow of energy. Acupuncture is thought to stimulate energy flow, unblock energy, and rebalance energy, which results in healing.

People most commonly use acupuncture for pain-related conditions, depression, nausea, and sleeping problems. It is also used for addictions, several mental disorders, movement disorders such as Parkinson disease and cerebral palsy, and many other purposes, but there is no good scientific evidence to support many of these uses.
Acupuncture is likely safe when given appropriately and with sterile needles. Side effects are uncommon but might include bruising and swelling. Inappropriate use of acupuncture needles can cause serious side effects including infections.
Special Precautions & Warnings:
Pregnancy and breast-feeding: Traditional acupuncture with sterile needles is possibly safe when used appropriately when pregnant or breast-feeding. But there might be certain acupuncture points that should be avoided during pregnancy. Also, there isn't enough reliable information to know if electroacupuncture or laser acupuncture is safe when pregnant. Stay on the safe side and avoid use.

Children. Acupuncture is possibly safe in children. It's been used in research without any serious side effects.
Many different styles of acupuncture exist, including traditional acupuncture, Western acupuncture, electroacupuncture, and laser acupuncture. The appropriate or safe use of acupuncture depends on several factors such as the condition being treated or the person administering the treatment. Be sure to seek and follow relevant directions from your physician or other healthcare professional before using this treatment.
Interactions with pharmaceuticals
It is not known if this treatment interacts with any medicines. Before using this treatment, talk with your health professional if you take any medications.
Interactions with herbs & supplements
There are no known interactions with herbs and supplements.
There are no known interactions with foods.
vital.ly has licensed monographs from TRC Healthcare.
This monograph was last reviewed on 28/12/2022 20:15:57 and last updated on 08/07/2022 06:20:07. Monographs are reviewed and/or updated multiple times per month and at least once per year.
Natural Medicines disclaims any responsibility related to medical consequences of using any medical product. Effort is made to ensure that the information contained in this monograph is accurate at the time it was published. Consumers and medical professionals who consult this monograph are cautioned that any medical or product related decision is the sole responsibility of the consumer and/or the health care professional. A legal License Agreement sets limitations on downloading, storing, or printing content from this Database. No reproduction of this monograph or any content from this Database is permitted without written permission from the publisher. It is unlawful to download, store, or distribute content from this site.