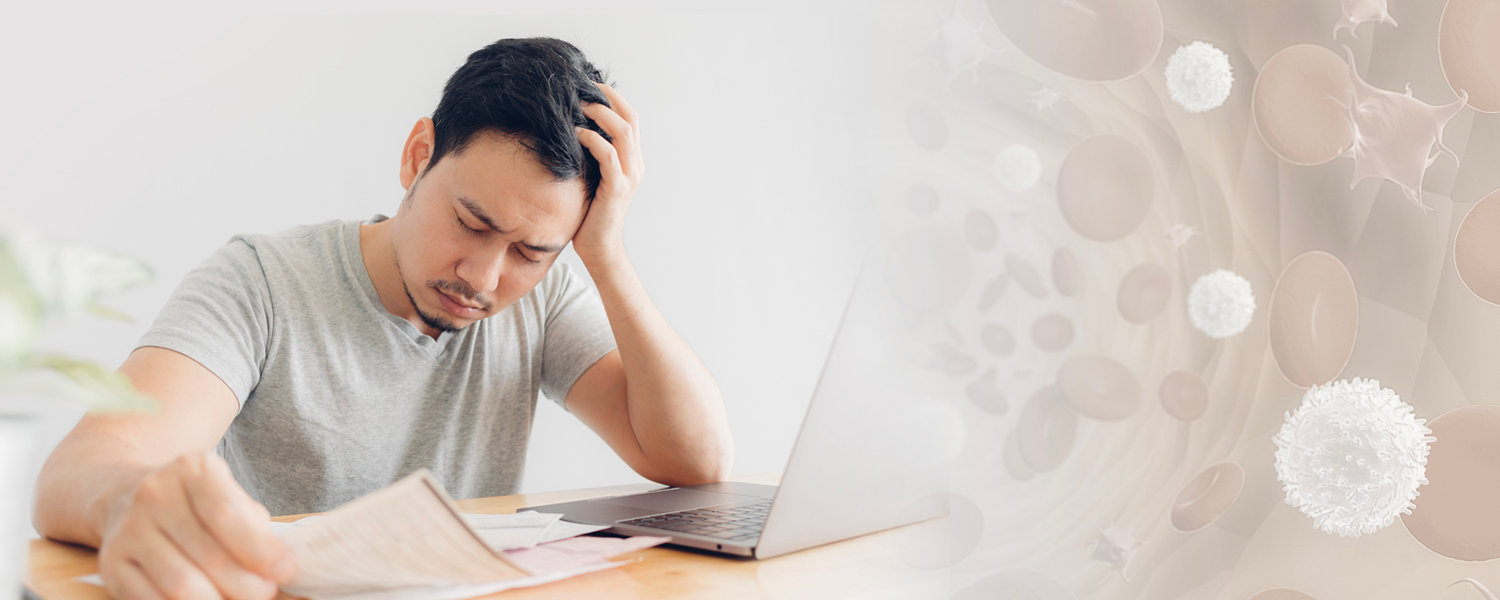 New research demonstrates how social stress accelerates immune ageing (1), potentially increasing the risk for chronic diseases such as cardiovascular disease, type 2 diabetes, cancer, autoimmune disease, and depression (2,3) and illness from infections such as severe acute respiratory syndrome coronavirus 2 (SARS-CoV-2) (4).
Declines in immunity accompany normal ageing. This process, termed immunosenescence, involves systemic dysregulation and remodelling of both the innate and adaptive immune systems (5). Immunosenescence is often accompanied by chronic, low-grade systemic inflammation, termed inflammaging (6). In healthy individuals, the effects of immunosenescence become more apparent at about 60 years of age; however, these can be accelerated by multiple environmental and lifestyle factors such as previous infection, smoking, stress, lack of physical activity, medications, and nutrition (7).
Social stressors are circumstances that arise from social position and experience that are expected to be stressful (1). These social stressors can modify the immune system in several ways, including increased inflammatory signalling and reduced antiviral responses, suggesting that social stress may accelerate immune ageing (8,9,10). Well-established mediators by which social stress may influence immunological ageing include disruptions in the hypothalamic-pituitary-adrenal (HPA) axis, specifically altered cortisol levels and glucocorticoid signalling (11,12).
The current study utilised nationwide data from 5,641 US adults over the age of 50 years to assess associations between five categories of social stress on immune ageing. Respondents' experiences with social stress, including stressful life events, chronic stress, life trauma, everyday discrimination, and lifetime discrimination, were assessed using a questionnaire. In addition, markers of immune ageing were assessed using flow cytometry, including naïve and terminally differentiated T cell percentages and the ratio of CD4+ to CD8+ cells. Statistical analyses were undertaken to assess potential mediation of immune ageing by socioeconomic and lifestyle factors and cytomegalovirus (CMV) seropositivity.
Exposure to social stress was associated with T cell distributions indicative of accelerated immune ageing. Life trauma and chronic stress were associated with a lower percentage of CD4+ naïve T cells. These T cells carry out multiple functions, ranging from activation of the cells of the innate immune system, B-lymphocytes, cytotoxic T cells, and nonimmune cells, and play a critical role in the suppression of immune reactions.
Stressful life events, lifetime discrimination and life trauma, were associated with a lower percentage of CD8+ naïve T cells, which are cytotoxic T cells that recognise and destroy cells infected with bacteria or viruses. Stressful life events, high lifetime discrimination, and chronic stress were associated with a higher percentage of terminally differentiated CD8+ cells.
Lifetime discrimination and chronic stress were associated with a lower CD4:CD8 ratio, which is an immune risk phenotype associated with altered immune function, immune senescence, and chronic inflammation (13).
In this study, statistically controlling for CMV seropositivity reduced the association between stress and accelerated immune ageing. These results are consistent with past research showing that stress is associated with impaired immunological control of latent viruses like CMV (9). Furthermore, the results indicate that more stressed individuals may have reduced control over and more frequent activation of CMV, leading to an increase in memory T cells and a decrease in the CD4:CD8 ratio (14,15,16).
After statistically controlling for poor diet and low exercise, the association between stress and accelerated immune ageing was less significant, suggesting that people with higher stress tend to have poor diet and exercise habits, partly contributing to their accelerated immune ageing.
The percentage of CD8+ naïve T cells remained significantly inversely associated with stressful life events, lifetime discrimination, and life trauma after controlling for smoking, education, alcohol consumption, body mass index (BMI) and race or ethnicity. This finding supports previous research that stress can accelerate thymic involution, the process in which the thymus gland reduces in size and thymic epithelial tissue is replaced with adipose tissue, decreasing naïve T cell output (17,18).
A limitation of the study was that it included a cohort of older adults exposed to various forms of stress, discrimination, and trauma that might not represent younger cohorts. Regardless of this limitation, the study provides insights into how social stress affects immune ageing by decreasing naïve and increasing terminally differentiated T cells. Furthermore, the results suggest that interventions to reduce stress and improve nutrition and exercise behaviours may help counterbalance the immune ageing associated with stress.