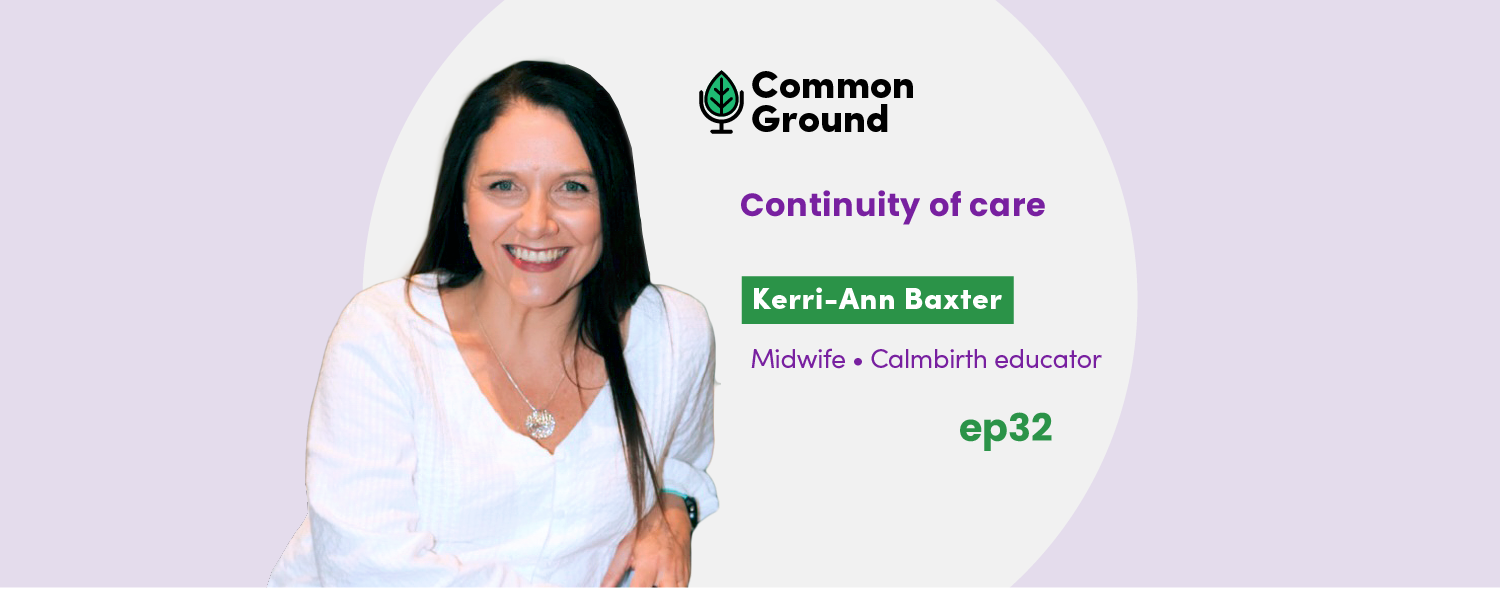 Listen on Amazon music | Apple Podcasts | Google Podcast | Spotify 
Jacqui Fahey (00:05): Welcome to Common Ground, a podcast series discussing new research and interesting projects in the field of complementary medicine. Hello, my name is Jacqui Fahey, Head of education at vital.ly. vital.ly is digital platform, a health professional resource, and a distribution service all in one.
Firstly, I'd like to begin by acknowledging the Gadigal people of the Eora nation as the traditional custodians on the land on which we gather here. I would also like to pay my respect to their elders both past, present, and emerging.
Today on Common Ground I'll be speaking with Kerrie-Ann Baxter, who is a calm birth educator, a midwife and a mother of three beautiful boys. Kerrie-Ann currently works as a midwife at Wodonga hospital and has her own business preparing couples for their pregnancy and birth experience. Kerrie-Ann is going to share with us today about calm birth, continuity of care and collaborating with other healthcare professionals.
Welcome to Common Ground, Kerrie-Ann.
Kerri-Ann Baxter (01:05): Thanks Jacqui, nice to be here. 
Jacqui Fahey (01:07): Yeah. Lovely. Kerrie-Ann, what is your background and how did you come to specialise in midwifery?
Kerri-Ann Baxter (01:15): Yeah, well, it was, it was interesting transition into midwifery. I studied to be a nurse back in 1992 and I'd been working in accident emergency for a couple of years. And that was pretty full-on kind of working schedule. And my husband said to me, one day you should be a midwife. And I said, no, I don't want to be a midwife. And he said, 'oh, just entertain me, go on, go and do it for a year and see how you go'. And obviously he knew something I didn't because I moved into midwifery in 1998 and I've been there ever since. So yeah, coming up to 24 years of being a midwife and working in lots of different locations, I've worked in, I studied at Griffith which is a regional town. I moved up to Cairns. I went out to Alice Springs and then I settled in Wodonga about 19 years ago. So I've been working at Health Wodonga maternity for almost 19 years now.
Jacqui Fahey (02:09): Wow. Fantastic. And what is the role of a midwife and lactation consultant?
Kerri-Ann Baxter (02:15): Yeah, so to become a midwife, most women, or we've got a number of male midwives these days, we go off to uni and do four years of university training. There are some people that come in as direct entry midwives, so you can go off and do four years of university, wholly and solely to become a midwife. So you don't come out as a nurse, you come out as a midwife and that's their vision and that's all they want to do. So that's great. I became a nurse first and then did my midwifery training. So that took four years in total. And then, you know, the purpose of it or the role of the midwife is to provide pregnancy and health support for women during their pregnancy labor and birth and into that postnatal period. So there's so many pathways that you can work within midwifery.
So we work right across the scope of antenatal care. Seeing women in the antenatal or early pregnancy, right through to birth period, providing education support and care for them on their pregnancy. Then we have midwives that work in the birth suite, looking after women during their labour and birth and then midwives that work on the ward. So in that postnatal period for those, two, three, five days after birth, where they spend that time in hospital, and most of us midwives will work right across the board. Then there's the special care nursery. So, well, you don't always have to be a midwife working in the special care nursery. Many of us are, but we have registered nurses that work in the nursery with specialised experience in that field. But registered nurses can work in there and just kind of get trained up in that field as well.
Kerri-Ann Baxter (03:53): So we then have a domiciliary role as well. So after women have their babies, we go out and visit them at home. Usually two days after discharge, just to see how they're going, check on how their baby's going, how they're feeding, how they're feeling in that postnatal period, if they've got any concerns. And then we refer them on. So all of our moms get referred on to the early childhood nurses in Victoria or the maternal community health nurses in New South Wales where they have that follow up care for the next five years. So a lot of people don't realise that they come into being pregnant and thinking, 'oh, I don't know anything'. And I just tell mums, 'you're going to learn it on the way. And we are going to give you that guidance. And we're going tell you who you need to tap into and we're going do those referrals.'
So no one has to feel overwhelmed by knowing everything. Because the thing about pregnancy and birth, it's such a time limited thing, and you don't need to know until you need to know. And we often find that it's around about that 15 to 20 week mark, where women start feeling like, 'oh gosh, you know, what do I need to know?' And we just give them that support that you're going to learn all of this on the way, and we're going to keep giving you that reassurance and support and education, and we're going to give you those resources so that you know what to tap into once you go home. So, you know, we are at primarily, our role as midwives is to promote natural childbirth, knowing how to identify problems and being able to refer is a big part of our role.
And so we work in collaboration with either obstetric GPs in the community, sometimes regular GPs if women live outside our region. So sometimes women might live out at Finley or you know, Berrigan, or, you know, Deniliquin or Mount Beauty. And sometimes they don't have access to obstetric GPs in those locations. So we form a little share care model of care for those people where they can kind of stay in their communities, but come into us at varying times during their pregnancy, just to get that little bit more specialised care around their pregnancy. So it just keeps them, it limits their, that obligation I guess, to travel a lot during their pregnancy, if we can do that. And then we also refer on to the obstetrician. So they're more senior, very skilled in pregnancy, labour and birth. And if there's any kind of risks that develop in the pregnancy, then we collaborate with the more senior obstetricians.
Jacqui Fahey (06:17): Yeah. Right. And with lactation consultant, what's a little bit about that role?
Kerri-Ann Baxter (06:22): Yeah. So lactation consultant is often a midwife, but doesn't have to be. And they basically they're specialising in helping women to breastfeed their babies successfully. And not just breastfeed, like supporting them on their feeding journey so that doesn't always involve breastfeeding. Some people think that's all they do. You know, that they're all about pushing breastfeeding but actually their role is to support mums on that journey and transition into feeding their babies successfully and give them that ongoing support. We have lactation consultants that work within the hospital. We have midwives that are lactation consultants. We have a lactation clinic that's attached to the hospital, like many organisations do. And then we've got midwives and nurses in the community that have become lactation consultants as well. And women can access lactation consultants either through a public model of care that's not always seamless but it is an amazing service. And we do it really well here at Wodonga. Otherwise they can access lactation consultants as a private patient. So they just seek them out independently and they pay for that service. I guess the really wonderful thing about a service like that is they get that continuity of a known practitioner. And I guess that kind of leads on to that continuity of care is we know that outcomes are better, not just for pregnancy care, labour and birth outcomes, but also breastfeeding outcomes. And that transition into parenthood, with when they have care by a known practitioner and that consistent advice, that relationship that develops, that just seems to build confidence in them to achieve, you know, many things.
Jacqui Fahey (08:06): Beautifully shared. And when do you collaborate say with other modalities such as naturopathy? do you cross refer?
Kerri-Ann Baxter (08:13): Yeah. So we certainly do. We, I have the luxury of working in a midwife care clinic at the hospital. It's just a publicly funded clinic, it's not a continuity of care model as such because, for example at Wodonga hospital, we have a roundabout and it varies, you know, one hundred and fifty, one hundred sixty-five midwives at any given time that work in at Wodonga maternity. I work in a small team of midwives. So every round about 8 to 10 midwives, and my little team has about 20 women a month that come into that see us over the duration of the month and continue to see them through the course of their pregnancy. And we take on that number each, each month. Now we, because we have the luxury of seeing these women from around about 15, 16 weeks, then we get to develop that relationship.
And so we are often discovering things like low iron where we might refer off to a naturopath or we might have a risk of diabetes or maybe a positive diabetes screened for pregnancy where we'll refer off to a dietician. We have, you know, we'll refer off for things like alignment. So that might be physios, it could be going off and having a massage or some Bowen therapy. It could be doing Pilates or yoga. So there's so many other health professionals that we will work with. We will often talk about improving their gut health. You know, we'll get women that will come up with recurrent urinary tract infections in pregnancy. We get women that have, that might have multiple antibiotic uses or prescriptions during their pregnancy. So really talking to them about their gut health and how we can enhance that prior to that labour and birth journey, because they're not just doing it for themselves, they're doing it for their babies. So whether it's gut health, whether it's mind, body health, whether it's physical body health all these things we've got a mother and a baby that we need to consider.
Jacqui Fahey (10:16): Yeah. That's a lovely holistic approach. And you are a Calm birth educator. How did you get involved with this and what is Calm birth education?
Kerri-Ann Baxter (10:25): Yeah, so I'd been a childbirth educator, I'd started running my own business about 15 years ago. And I just happened to meet a woman who had done a program that just resonated with me. She was a client and I said, 'what have you done?' And she was telling me about Calm birth. And I was like, oh, this is something I would look into. And I did. And I became one of the first Calm birth educators. I think I came in in the second year of its development. So I've been teaching now for 14 years, so I teach this calm birth program, which is a two day program in the community. I do it once a month. I do it more often if I need to but generally once a month with about 8 to 10 couples, it's an amazing program that really recognises that interrelationship between the mind body connection in birth.
So it really is planting the seed of women have these amazing inner resources. They just don't know in many ways how to tap into them because we've been modified, I guess, over many years around what we think childbirth is. And, you know, I start a class by saying, 'what do you think about labour and birth? And what's your idea? And who's heard of a traumatic birth experience?' and everyone will have heard of those traumatic stories. Everyone has had someone during their pregnancy tell them their negative birth story. And I'm not saying that's bad. That's often how a woman debriefs her own birth experience and often gets that validation. But it's terrifying to a pregnant woman to hear those stories over and over. And she may never have heard them before she was pregnant but now she's hearing them a lot as she's entering into this journey herself.
Kerri-Ann Baxter (12:06): So there is a lot of fear and anxiety that comes into my classes right at the start of the day, where there's particular anxiety around the pain. Often the thought over management of labour and birth, you get partners that are terrified of watching her go through this and they don't know what their role is. So that's one of the huge components of Calm birth, is really involving the partners, whether that's a partner or a support person, a mother, a sister, a best friend, it doesn't matter. We just teach the role of the support person. Who's building confidence in their ability to do this together in empowerment, knowledge and trust, but also knowing when people will say to me 'will you be there for my birth?' And I'll say, 'Hey, I might be there for your birth but at the end of the day, what I'm hoping that you get out of this class is that you can do this together as a team.'
And when they do that, and we move away from saying, 'as long as my baby is healthy, as long as the mother is healthy', which of course is so important that people stop there. A big part of what Calm birth is, is that we talk about a healthy mum and a healthy baby and a healthy relationship and a healthy mind. So how do you feel about this journey that you've just been on and then, because what we know, and I'm sure you've heard this also Jacqui, people talk about birth for the rest of their life. I can talk to an old woman who will want to tell me her birth experience. I've had two mums in particular recently that came with their daughters to a Calm birth class. They both didn't have a partner. They brought their mums.
And over the course of the two days, those mums were in tears. And we're having a chat at lunch on day two. And they said 'Ah, like so much of what you're talking about has made us really our own experiences and how we didn't, you know, have a voice and we didn't have a choice. And we are now instead of feeling sad and afraid, we're feeling really excited about the potential. So that journey that we take people on during Calm birth is really about dismantling current beliefs and ideas about what labour and birth is in our current system, teaching them that confidence, teaching them that they don't have to be the expert. You know, a lot of people will say to me, but you know, when you come into hospital, you just kind of hand yourself over because, you know, you've got healthcare providers and we know that they want to do well by you.
But at the end of the day, how I present it is, if we have 300,000 women at birth, a baby every single day in the world. If I went out and I looked after the 300,000 women that birth their baby today, I would not get it right for all of them, unless I knew something about them. If I did find out something about them, I can then modify how I care for those women. And that might be based on their beliefs, their culture, their previous trauma, their previous birth experience. Maybe there's so many aspects that come into it. So this is about Calm birth is about teaching couples, what they've actually already got, and that they've got so much to bring to the experience that they don't actually have to be an expert in labour and birth. They just need to be an expert in themselves.
Kerri-Ann Baxter (15:22): Their support person is often the next best expert. So giving them a voice to be able to be that woman's advocate it just gives them a tool. And they feel really important. And that's so great. We see it over and over again in that birth space with a couple that worked together during that labour and birth. And of course, we teach them one of the primary skills of Calm birth is teaching them about their hormones and the power of breathing.
I can't even begin to tell you how many times I've seen that in action in a labour and birth where women take control of their breath and just settle their mind down so that they can make those good choices, whatever they are. And again, Calm birth is never about a woman having a vaginal birth with no pain relief and no stitches, Calm birth is about how do we help this couple have a positive experience? Because when they have a positive experience, they will take it into every part of their life going forward, their relationship with their family, their relationship with their partner, their child, and ultimately their relationship with themselves.
Jacqui Fahey (16:35): Wow. That's just brilliant. That's so integrative supportive, nurturing, and as you said, it's individualised, you know, care, that's each step of the way, you know, do you know exactly what's going to come up, but if something does come up, here are some tools that we can, you know, support ourselves with. Wow.
Kerri-Ann Baxter (16:56): Definitely. I think just, you know, I'll just give you an example. I had a woman, do you mind me sharing an example?
Jacqui Fahey (17:04): Yes, please. I'd love to hear it. We'd love to hear it.
Kerri-Ann Baxter (17:07): Yeah, so we had this woman that was coming down the corridor and so of course, during COVID, it was really interesting because we had a lot of fragmented support because of what people were allowed to come into hospital and when they're allowed to come. So this woman presents and she's walking down the corridor and she was hyperventilating like crazy. And one of the midwives took her into a room and she came out to me and she said, 'oh, we need to get this woman something she's completely out of control.' She would look like she was in really good labour, but she was absolutely in this heightened state of panic, we were waiting for her mum to arrive park the car, get screened, and then come down to birth suite. Now, just a, a side note of that, hyperventilation, the average amount of breaths in a minute for an adult is around about 16 to 18.
Hyperventilation is obviously over breathing, and we can see women when they're in labour breathing at rates of 30 to 40 breaths per minute. And we know that with hyperventilation, they deooxygenate the brain by up to 40% in the first minute of doing that. So when that happens, they start making choices out of fear and desperation, not out of need. So it completely changes the dynamics in a room. So I walk into this room and she was absolutely hyperventilating like crazy. And she was really articulating to me very strongly that she wanted an epidural and I needed to get it for her right now. And I said to her, 'just stand with me, look at me and breathe with me and just come back to my breath.' And so that wasn't so easy. She was very resistant. It took about five to eight minutes.
Kerri-Ann Baxter (18:45): Over that time, her mum had come into the room and I just said, 'come on, just keep breathing with me all the way through the contractions. And even when they've gone, I want you to just focus on me and come back to my breath' and very, very slowly over the next 10 to 15 minutes, she did that. And then all of a sudden she looked at me and she said, 'whoa, I really lost it. Didn't I?' And we had a little bit of a chuckle. Now, what was particularly interesting about this woman is she never asked for an epidural again, now she absolutely could have, and she absolutely could have had an epidural, which if you're not sure what it means, you know some medication to take all pain away, basically that renders a woman requiring laying on a bed and lots of extra monitoring and drips and medications.
And that's okay. But there's lots of implications for having an epidural. They are a beautiful tool. Great if you're having one, because you need one or that's exactly how you feel like what you need to have right now. But when you're asking for an epidural out of fear it's probably not where you need to be at that point. So she never asked for it again, she went on, she laboured with her mum in the room and she went on and birthed her baby without that epidural that she was demanding when she walked in the door. And that's just one of the examples that I see with just reoxygenating that brain. Make those decisions that you need to make but make them with a clear head.
Jacqui Fahey (20:13): Absolutely. She was given the space, just to catch your breath. Wow.
Kerri-Ann Baxter (20:20): Not just trying to fix it, you know? And I guess that's one of the components of teaching breathwork during Calm birth is the emphasis on why we teach it, not just how to do it. So yep. People can say, 'yeah, yeah, you need to breathe slowly or more measured', or you know how to do it, whether you do it through your nose, whatever it is, that's all fine, but we give the science behind it. So there's evidence, there's research and we explain that this isn't just a labour and birth skill. This is a life skill. So we really kind of break it down and explain why, why this works and why this is such an effective tool.
Jacqui Fahey (21:00): Yes, yes. It's a lifestyle tool, isn't it? Beyond pregnancy, for parenting as well.
Kerri-Ann Baxter (21:06): Yes for parenting, for work, for relationships. Yes. And I think that they take a hold of that and take that away with that. I've got a life skill now I've got a tool in my belt for moving into this transition into parenthood, but I don't know anything about really.
Jacqui Fahey (21:21): Yes. So what about some resources for women to reach out for during postpartum period?
Kerri-Ann Baxter (21:28): Yeah, so there are lots and lots of support systems out there. And whether you're in a public system or a private system, they're still available for anyone to tap into them. So there's things like the Australian Breastfeeding Association, which are in the community, you can get online and tap into them. So they have online counsellors. So they can actually just talk to you over the phone and give you some tips and tools, they have coffee mornings, they're awesome. Online tools, whether it's watching a video or reading through some case studies and stuff like that. So that's awesome. As well as the maternal child health nurses and early childhood nurses in the community, which are available for them, for basically for the next five years. There's emotional health support in the community. Because obviously postnatal depression, we talked about this a little bit earlier with birth trauma. Postnatal depression is high, rates are high but also maladjustment to parenthood. So expectations and assumptions about what, how we should be doing this when we've never done it before. Sometimes it's about talking to someone and just kind of navigating, 'what does this look like for you?' And so there are those facilities in the community and we give them to all the women. So they get little booklets with these resources in the community. And I also do them when I teach a class, I have a resource page where they can tap into, whether it's relationship support, whether it's a crying baby, unsettled baby, tools for sleep and settling, emotional health support. So there's lots of whether it's postnatal counselling, postnatal debriefing.
Kerri-Ann Baxter (23:08): Whether it's follow up with someone like an osteopath or some Bowen therapy or something. Maybe because we have with our births, we may have a baby that is born via forceps or a vacuum, which is an assisted birth that can actually put some pressure around this baby's head or skull or neck. And that may even happen at a cesarean section. So that might affect their breastfeeding because they're uncomfortable, or maybe they're uncomfortable in a particular position that you're holding them because of these alignment issues. They may have trouble sleeping and settling, they may have trouble with their digestive system. And that might be after some big antibiotic administration. We know that antibiotics during pregnancy, labour and birth is sitting at around about 40 to 50% like it or not.
So we sometimes have gut issues in babies. So there's so many modalities that we can tell women about for when they go home, that they might go and seek out some naturopathic support or you know, a dietician or there's so many pathways. And  it really is about individualising it for each woman because not everyone's going to need every single resource and it can feel a little bit overwhelming sometimes, but being able to kind of tailor it when we do our discharge planning, often having got to know that woman over a couple of days, you kind of work out what are those pathways that we might need to refer into or, or offer for her for a resource.
Jacqui Fahey (24:41): Kerrie-Ann, you mentioned about the rise of antibiotic use for women in pregnancy, labour and birth. That does sound concerning, you've mentioned. There has been some concern for women. Why is it on the rise and how do you address the antibiotic use? What's your approach there?
Kerri-Ann Baxter (24:58): Yeah, so probably, oh, over the last several years, there definitely has been an increase in antibiotic use. And not just that though, there is an awareness that comes from the public these days. I think years ago women would just take the antibiotics and they would just say, 'well, that's, you know, I've been prescribed and or advised, and that's what I'll do.' And now women are coming to us and they're saying, oh, so why, why are we doing that? And one of the reasons, one of the big things that we see in midwife, our midwife care clinic in particular, and particularly when I teach a class, because this comes up over and over and over again is our group based strep swabbing procedure and the processes around that. So at approximately 36 weeks pregnant women will go to their appointment and they will have this 'group B strep' screening done.
So that involves a swab. That's like an earbud, goes into their vagina and they swoosh it around and then they bring it out past the skin at the base of the vagina and up past the anus and they send it off to test for bug called 'group B strep', which is a bacteria that lives in women's guts naturally about 13 to 18% of the time. So it's there, you may have it at the moment. I might have it, but it doesn't matter because we're not pregnant and having a baby. So it is a transient bug that comes and goes on around about a five weeks cycle. So what they do is they test women at 36 weeks with that thought that most women will birth their babies between 37 and 42 weeks. That is what's considered normal.
And if we capture those women that are 'group B strep' positive at 36 weeks, then they can treat those women with antibiotics. Now what 'group B strep' is, is a bacteria that lives in the vagina of a woman, which is while what I said earlier, normal, the only time that this could pose a problem potentially is as this baby comes down to be born, it comes down through that vaginal passage and can potentially pick up that bacteria that's sitting inside that woman's vagina, pick it up onto their skin, colonize it and become unwell. So things like meningitis, sepsis, and pneumonia, these are incredibly rare. However, we treat anywhere between about one in four or one in six women with intravenous antibiotics to prevent that baby developing an illness. So, what we do here in Victoria, New South Wales is we do prophylactic management.
Kerri-Ann Baxter (27:34): So you test positive at 36 weeks. We just treat you as positive, whether you birth your baby at 37 or 38 or 41 or 42, remembering back to this being a transient bug that hangs around for about five weeks. So could a woman test positive at 36 when she actually got it at 32 or 33? Could she no longer have it at 38 weeks? But then go on to be treated like she has it at 41 weeks when she gives birth. And the answer is, yes, this is not a foolproof test. So if we are looking at one in five women coming back positive, then we are treating one in five women to stop and don't quote me, but it's about one in 2000 babies that can get GBS, sepsis and get quite unwell. Now that's not to be taken lightly.
GBS sepsis it's a nasty sepsis and can have poor outcomes. It's very rare to have a poor outcome, but it can happen. So of course we, birth is so emotive. And if you tell a woman that your baby's at risk, then, then she's going do pretty much anything you tell her. Right? And so what we are about in this antenatal period is about education. That this is not a foolproof test and there are consequences for increased antibiotic use. And we certainly, there is no, we don't tell to swab or not to swab or to take antibiotics or not to take antibiotics. We're very, very clear on that. This is about them making their own educated decision. But for people that say to me, 'I really don't want to have antibiotics'. Then I give them resources and tools to go seek out further information to see is this right for them.
For example, if you are in Queensland, the Netherlands or the UK, they don't test for this bug. What they do is they treat based on risk alone. So if a woman develops a risk factor in her labour, like an increased temperature, like an increased heart rate or her baby's heart rate increases that may be indicative of potential infection, then they would encourage her to have intravenous antibiotics. Like they're treating on a risk alone basis. We treat on risk as well. So this is where we talk about this 40 to 50% of women are all getting antibiotics because we've got the women that get antibiotics to treat the 'group B strep' so that we give the intravenous antibiotics to a mum so that it crosses the bloodstream and puts the antibiotics basically into the baby because the mum does not need this antibiotic. It's just the baby.
Kerri-Ann Baxter (30:03): And it's only as that baby starts to emerge that it can come in contact with it, which is why we would never treat a woman at 36 weeks. Because she can get it again. And she doesn't need to be treated because this is not her issue. This is normal to her. So we only treat at the point of birth. We only treat when a woman goes into labour or if she breaks her waters because the sack that's surrounding the baby, that's keeping the baby very protected. Once the sack is broken, there is potential pathway for an infection to get into that baby again, really low, but potential. So this is about treatment at the point of labour but we only need to give two doses of antibiotics, four hours apart. One dose is okay, two doses is the recommended dose. But if you have a woman that comes into hospital and is with us for 20 hours, she's going to get several doses of intravenous antibiotics, because you don't know when she's going to birth. So she's going to get that dose of penicillin every four hours until she births. And so sometimes we see women getting five or six doses of intravenous antibiotics in their labour to prevent potentially that one baby in thousands that may get sick from this bug.
Jacqui Fahey (31:25): And would you look to working with a probiotic at all?
Kerri-Ann Baxter (31:30): Yes. So this is where this comes in. We get women having this conversation around 'do you, what can I do about this? I don't want to have the antibiotics' or what if I have to have the antibiotics. This is where our recommendation around getting on a probiotic and particularly one of the ones that I talk about is Qiara. It's beautifully shared through the mother's blood stream and through her milk. So we will often say 28 to 32 weeks, start on something like this. So you've got that really great preparation in case you end up with antibiotics because even those women that say that I won't, that's not going be me. Well, if we are talking about one to two, one in three women that are going to get antibiotics, it could be her.
And what other women don't realise is our caesarean section rate that sits around about 30%, is every woman that has a cesarean section will get antibiotics. So there's so many women that are going to get antibiotics. So I guess, for a probiotic, it's about preparation for, if this happens, I've got some tools in my belt that I know that I've done something really great for myself and my baby. So I feel women are more confident, more empowered with that sense of control that this is something I can control and other women that may decline to have the swab will get on a probiotic and they say, 'well, I'm going to do some really supportive measures here. And I may not end up having this 'group B strep' bug. And if you go into labour and there's some requirement down the track to have antibiotics, then I know that I've prepared myself the best way that I possibly can'.
So if we have the opportunity to have that conversation at 28 to 30 weeks, we do. But mostly what comes up is the woman that thought she was not going to be positive. The swab comes back positive and we're having these conversations at 37 weeks where she's saying, 'I didn't want to be positive and I don't want to have the antibiotics. What can I do?' And this is about, okay, so what options do we have here? And probiotics are hands down one of the things that I see women jump onto because it's like, okay, this is within my control.
Jacqui Fahey (33:39): Another supportive tool. Fantastic. And Kerri-Ann, you've shared such a wealth of knowledge and experience. Thank you. What are some key takeaways you'd like our audience to walk away with today?
Kerri-Ann Baxter (33:53): Yeah. So I, I just want people to know that as midwives, they've got a massive role to play in a woman or a family's birth experience. We are the perfect people to talk to about what pregnancy options women have in the community. So many people don't know the pathway to go down and find themselves on a pathway just because their sister did it, or their mother did it. Or they've got a great GP that referred them in on a particular pathway. And it will only be many weeks later that they might go, 'oh, I'd never heard about that. I didn't know that I could see a midwife over the course of my pregnancy. I just had this belief system that you just go and see a doctor'. And that's not a bad thing because if you've got a good relationship with a GP, then that might be the best care for you. And they may have cared for you previously and you feel comfortable, safe, and supported, then that's absolutely perfect. You know, but there's, as you know, as a midwife, we can go through every pathway that's available for those women and really reassure them that entering into having a baby doesn't have to be terrifying because we're going, there's these supportive pathways right along the journey.
Jacqui Fahey (35:02): Well, Kerri-Ann, thank you so much for sharing your experience and wisdom today on Common Ground. Appreciate you being with us today.
Kerri-Ann Baxter (35:10): You are very, very welcome.
Jacqui Fahey (35:11): Thanks for tuning into this episode today. We appreciate your support and feel free to leave us a review. We'd love to hear from you. Thank you.