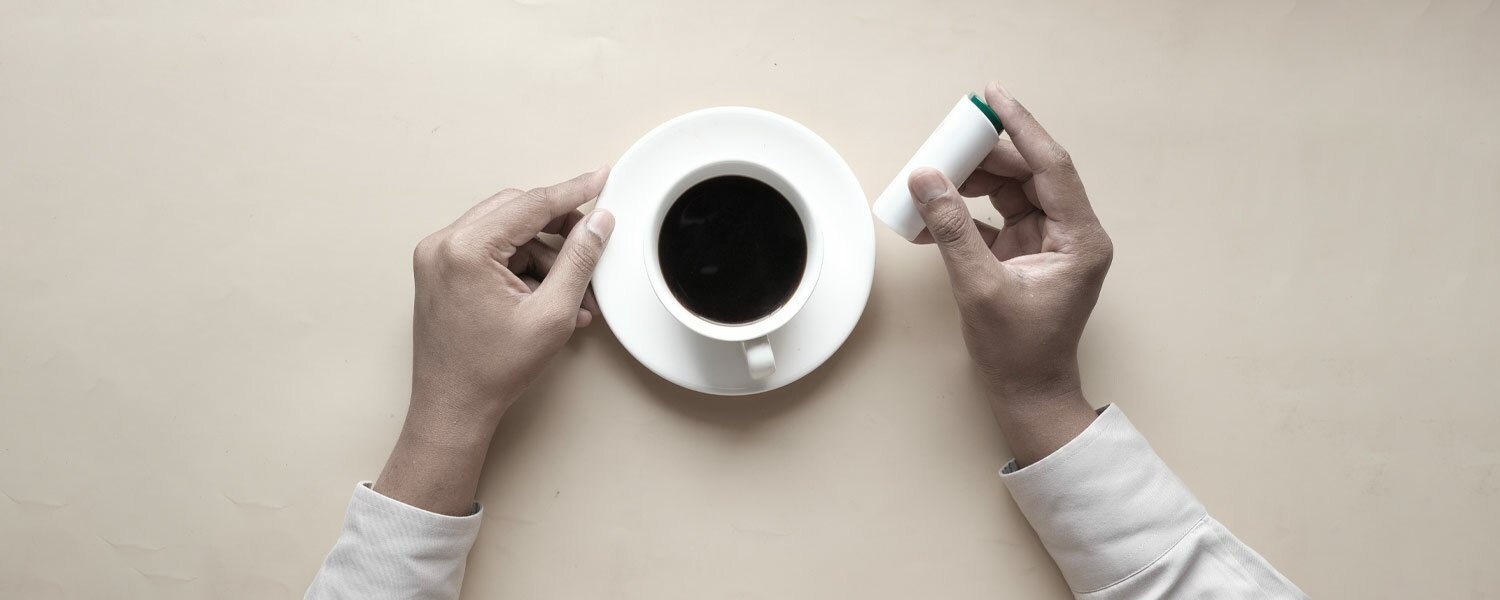 Artificial sweetener intake has been associated with an increased risk of cardiovascular disease (CVD) in a recent large-scale, prospective study (1). Total artificial sweetener intake from all sources, including beverages, tabletop sweeteners and dairy products, was associated with an overall increased risk of CVD and cerebrovascular disease
(1). Aspartame intake was associated with an increased risk of cerebrovascular events, while acesulfame potassium and sucralose were associated with increased coronary heart disease risk.
Artificial sweeteners are present in thousands of food and beverage brands worldwide, especially ultra-processed foods such as artificially sweetened beverages, snacks, and low-calorie ready-to-go meals or dairy products. Artificial sweeteners are also directly used by consumers as tabletop sweeteners instead of sugar. The amount of non-nutritive sweeteners in packaged foods and drinks has grown significantly over the last decade (2). However, their use remains controversial, and they are being reevaluated by the European Food Safety Authority (3), the World Health Organization (WHO) (4), and other health agencies.
Table 1. Commonly used artificial sweeteners in Australia (5)
| | | |
| --- | --- | --- |
| Ingredient | Additive Number | Brand names |
| Aspartame | 951 | Equal®, Equal Spoonful®, Hermesetas®, Nutrasweet® |
| Acesulfame potassium (aka acesulfame K) | 950 | Hermesetas®, Sunnett® |
| Alitame | 956 | Aclame® |
| Cyclamate | 952 | Sucaryl® |
| Neotame | 961 |   |
| Saccharin | 954 | Sweet 'N Low, Sucaryl®, Sugarella®, Sugarine®, Sweetex® |
| Sucralose | 955 | Splenda®, Hermesetas® |
Cardiovascular diseases (CVDs) are the leading cause of death worldwide (6). The impact of artificial sweetener intake on hard endpoints such as CVD risk cannot be assessed directly through randomised controlled trials for ethical reasons. Observational prospective studies have used artificially sweetened beverage consumption (millilitres (mL) or servings/day) as a proxy for indirectly investigating the association between artificial sweetener intake (mg/day) and CVD risk, with conflicting results (7,8,9,10,11). Systematic reviews and meta-analyses have suggested direct associations between artificially sweetened beverages and CVD risk (12,13). A WHO 2022 report on the health effects of artificial sweeteners observed associations between consumption of beverages with artificial sweeteners (used as a proxy) and some intermediate markers of CVD (4), including a modest increase in the unfavourable total cholesterol to HDL cholesterol ratio, and an increased risk of hypertension. The report also identified an increase in CVD mortality, and the incidence of cardiovascular events and strokes associated with a greater intake of soft drinks containing artificial sweeteners. However, prospective studies remain limited, and the evidence for these associations is still considered low by WHO (4). Artificially sweetened beverages only represent part of the total artificial sweetener intake, therefore it is crucial to consider all dietary sources in causal studies.
The current study used quantitative data to investigate the associations between consumption of artificial sweeteners (mg/day) from all dietary sources (beverages, tabletop sweeteners, dairy products, etc.), overall intake, and type (aspartame, acesulfame potassium, and sucralose), and risk of CVD (overall, coronary, and cerebrovascular). Just over half of the artificial sweetener intake in the study came from drinks, with the rest coming from tabletop sweeteners and foods (1).
The large-scale study included 103,388 French adults from the NutriNet-Sante cohort, with an average age of 42 years. The majority of the participants were females (79.8%). A total of 37.1% of participants reported consumption of artificial sweeteners. The sweeteners assessed were mainly aspartame (58% of sweetener intake), acesulfame potassium (29%), and sucralose (10%), with the other 3% made up of various other sweeteners including cyclamates and saccharin.
Over an average nine year follow-up, artificial sweetener intake was associated with a 9% overall increased risk of cardiovascular events and an 18% increased risk of cerebrovascular events. Cardiovascular and cerebrovascular events included myocardial infarction, acute coronary syndrome, angioplasty, angina, stroke, and transient ischemic attack. Aspartame intake was associated with a 17% increased risk for cerebrovascular events, while acesulfame potassium and sucralose were associated with a 40% increased risk for CVDs.
The average intake of artificial sweeteners among those who reported consuming them was 42.46 mg/day, corresponding to approximately one individual packet of tabletop sweetener or 100 mL of diet soda. A dose-effect association was observed, with a higher risk of cardiovascular events with higher consumption. Higher consumption in this study was a mean of 77 mg/day of artificial sweetener, which corresponds to approximately 200 mL of diet soda.
Potential underlying mechanisms
Various early markers of and risk factors for cardiovascular health have been investigated in relation to the consumption of artificial sweeteners or artificially sweetened beverages.
Most studies suggest adverse effects, and few suggested neutral or beneficial properties of artificial sweeteners (32,33,34,35). Although study results are mixed, the literature generally supports a potential involvement of artificial sweeteners in cardiovascular health, with plausible mechanisms (7,8,36).
It is worth noting that different types of artificial sweeteners might not have the same metabolic effects (26). For example, acesulfame potassium is absorbed from the small intestine and distributed to the blood and tissues through the systemic circulation before being excreted in urine. Sucralose passes through digestion and is almost entirely excreted in the stools, therefore, only a small part is absorbed from the gastrointestinal tract. The aspartame molecule is broken down into different amino acids: aspartic acid and phenylalanine are sent to the systemic circulation, while methanol is metabolised by the liver (26). These differences might partly explain conflicting results in the literature.
Conclusion
While this study has many strengths, it cannot on its own prove a causal relationship between artificial sweetener intake and increased cardiovascular risk. Dietary studies, which rely on self-reporting of food and drink intake, are always hard to interpret. This study used a more reliable dietary assessment method, with repeated 24-hour dietary records validated by interviews with a trained dietitian and against blood and urinary biomarkers. Models were adjusted for a wide range of potential sociodemographic, anthropometric, dietary, and lifestyle confounders. However, the high risk of residual confounding from behaviour modification and reverse causality cannot be ruled out: individuals who are at risk for CVD might consume artificial sweeteners as a strategy to mitigate this risk.
Nonetheless, this study finds an important and statistically significant association which shows robustness in all models after adjusting for many other possible confounding factors. The insight that artificial sweeteners may be implicated in cardiovascular and cerebrovascular disease
s would suggest limiting their intake until conclusive evidence of their benefit or harm is available.