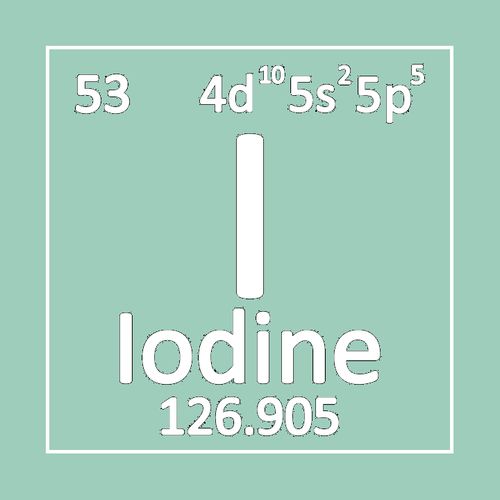 Scientific names: Iodine, I, Atomic number 53
Alternate names: Cadexomer Iodine, Diatomic Iodine, I2, Iode, Iode de Cadexomer, Iode Diatomique, Iode Moléculaire, Iode Mono-atomique, Iode de Povidone, Iode de Sodium, Iodide, Iodized Salt, Iodure, Iodure de Potassium, Iodure de Potassium en Solution Saturée, Iodure de Sodium, KI, Lugol's Solution, Molecular Iodine, Monoatomic Iodine, Numéro atomique 53, Periodate de Sodium, Potassium Iodide, Potassium Triiodide, Povidone-Iodine, Saturated Solution Potassium Iodide, Sel Iodé, Sodium Iodide, Sodium Iodine, Sodium Periodate, Solution de Lugol, SSKI, Yodo
Actions: Antimicrobial, Antioxidant, Hemostatic, Radioprotective, Respiratory
Iodine is an element that is used by the thyroid. Humans cannot produce iodine, so it must be consumed. It is added to some foods and also to salt.

Iodine reduces thyroid hormone and can kill fungus, bacteria, and other microorganisms such as amoebas. Iodine deficiency is one of the most common and preventable world health problems. Most iodine is found in the ocean, where it is concentrated by sea life, particularly in seaweed.

Iodine is taken by mouth to prevent and treat iodine deficiency and its consequences, including goiter and some thyroid disorders. A specific kind of iodine called potassium iodide is also US FDA approved to prevent thyroid damage after a radioactive accident. Iodine is also used for pink eye, gum infections, wound healing, and many other conditions, but there is limited scientific evidence to support many of these uses.
When taken by mouth: Iodine is likely safe for most people when taken in doses less than 1100 mcg daily. Large amounts or long-term use of iodine is possibly unsafe. Adults should avoid prolonged use of higher doses without proper medical supervision. Higher intake can increase the risk of side effects such as thyroid problems. Iodine in larger amounts can cause metallic taste, soreness of teeth and gums, burning in mouth and throat, stomach upset, and many other side effects.

When applied to the skin: Iodine is likely safe for most people when appropriately diluted products are used. A 2% iodine solution is an FDA-approved prescription product.
Special Precautions & Warnings:
Pregnancy and breast-feeding: Iodine is likely safe when taken by mouth in recommended amounts or when applied to the skin appropriately using an approved product (2% solution). Do not take more than 1100 mcg of iodine daily if you are over 18 years old; do not take more than 900 mcg of iodine daily if you are 14-18 years old. Iodine is possibly unsafe when taken by mouth in high doses. Higher intake might cause thyroid problems in the baby.

Children: Iodine is likely safe when taken by mouth in appropriate doses depending on age. Doses should not exceed 200 mcg daily for children 1 to 3 years old, 300 mcg daily for children 4 to 8 years old, 600 mcg daily for children 9 to 13 years old, and 900 mcg per day for adolescents.

A type of rash called dermatitis herpetiformis: Taking iodine can make this rash worse.

Thyroid disorders: Prolonged use or high doses of iodine might make certain thyroid disorders worse, including hypothyroidism, an enlarged thyroid gland (goiter), or a thyroid tumor. Also, people with autoimmune thyroid disease might be especially sensitive to the harmful effects of iodine.
Iodine is an essential nutrient found in iodized salt, marine products such as seaweed, as well as eggs and cow's milk. The amount that should be consumed on a daily basis is called the recommended dietary allowance (RDA). For adults, the RDA is 150 mcg daily. While pregnant, the RDA is 220 mcg daily. While breast-feeding, the RDA is 290 mcg daily. In children, the RDA depends on age.

Iodine is also available in supplements and in various topical solutions, eye drops, mouthwashes, ointments, and scrubs. Speak with a healthcare provider to find out what type of product and dose might be best for a specific condition.
Interactions with pharmaceuticals
Amiodarone (Cordarone)
Interaction Rating=Moderate Be cautious with this combination.
Amiodarone contains iodine. Taking iodine supplements along with amiodarone might increase the levels of iodine in the blood. Too much iodine in the blood can cause side effects that affect the thyroid.
Lithium
Interaction Rating=Moderate Be cautious with this combination.
Large amounts of iodine can decrease thyroid function. Lithium can also decrease thyroid function. Taking iodine along with lithium might decrease thyroid function too much. Do not take large amounts of iodine if you are taking lithium.
Medications for an overactive thyroid (Antithyroid drugs)
Interaction Rating=Moderate Be cautious with this combination.
Iodine can increase or decrease thyroid function. Taking iodine along with medications for an overactive thyroid might change the effects of these medications. Do not take iodine supplements if you are taking medications for an overactive thyroid, unless recommended by a healthcare provider.
Interactions with herbs & supplements
There are no known interactions with herbs and supplements.
Eating foods that contain gloitrogens, such as raw cruciferous vegetables like broccoli, might interfere with how the thyroid absorbs iodine.
vital.ly has licensed monographs from TRC Healthcare.
This monograph was last reviewed on 25/05/2022 20:36:24 and last updated on 31/07/2022 20:43:32. Monographs are reviewed and/or updated multiple times per month and at least once per year.
Natural Medicines disclaims any responsibility related to medical consequences of using any medical product. Effort is made to ensure that the information contained in this monograph is accurate at the time it was published. Consumers and medical professionals who consult this monograph are cautioned that any medical or product related decision is the sole responsibility of the consumer and/or the health care professional. A legal License Agreement sets limitations on downloading, storing, or printing content from this Database. No reproduction of this monograph or any content from this Database is permitted without written permission from the publisher. It is unlawful to download, store, or distribute content from this site.