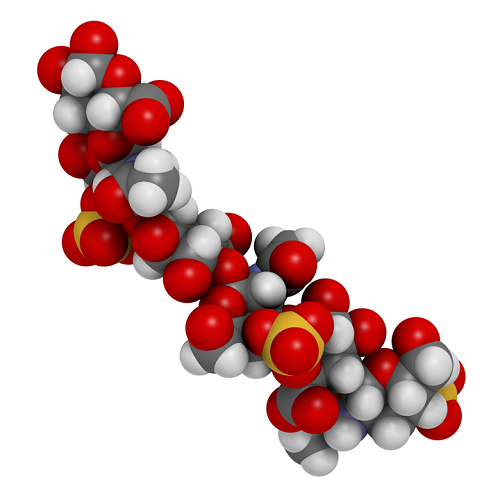 Scientific names: Chondroitin 4-sulfate, Chondroitin 4- and 6-sulfate
Alternate names: Calcium Chondroitin Sulfate, CDS, Chondroitin Polysulfate, Chondroitin Sodium Sulfate, Chondroitin Sulphate, Chondroïtine, Chondroïtine Sulfate A, Chondroïtine Sulfate B, Chondroïtine Sulfate C, Chondroïtine 4-Sulfate, Chondroïtine 4- et 6- Sulfate, Condroitin, CPS, CS, CSA, CSC, GAG, Galactosaminoglucuronoglycan Sulfate, Poly-(1->3)-N-Acetyl-2-Amino-2-Deoxy-3-O-Beta-D-Glucopyranurosyl-4-(or 6-), Polysulfate de Chondroïtine, Shark Chondroitin Sulphate, Sulfate de Chondroïtine, Sulfate de Galactosaminoglucuronoglycane, Sulfates de Chondroïtine, Sulfato de Condroitina
Actions: Anticoagulant, Anti-inflammatory, Antineoplastic, Antiviral, Bladder, Bone, Cardiovascular, Joint, Neurologic, Ophthalmologic, Wound-healing
Chondroitin sulfate is a chemical found in human and animal cartilage. It is commonly used by mouth with glucosamine or other ingredients for osteoarthritis.

Chondroitin sulfate is one of the building blocks of cartilage. In osteoarthritis, the cartilage in the joints breaks down. Taking chondroitin sulfate might slow this breakdown. It is usually manufactured from animal sources, such as shark and cow cartilage. It can also be made in a lab.

Chondroitin sulfate is used for osteoarthritis and cataracts. It is often used together with other ingredients, including manganese ascorbate, hyaluronic acid, collagen peptides, or glucosamine. Chondroitin sulfate is also used for many other conditions, but there is no good scientific evidence to support these uses.
When taken by mouth: Chondroitin sulfate is likely safe when used for up to 6 years. It can cause some mild stomach pain and nausea. Other possible side effects include bloating, diarrhea, and constipation.

When placed into the eye: Chondroitin sulfate is possibly safe when used together with other ingredients in an eye drop.
Special Precautions & Warnings:
Pregnancy and breast-feeding: There isn't enough reliable information to know if chondroitin sulfate is safe to use when pregnant or breast-feeding. Stay on the safe side and avoid use.

Asthma: There is some concern that chondroitin sulfate might make asthma worse. If you have asthma, use chondroitin sulfate cautiously.

Prostate cancer: Early research suggests that chondroitin might cause the spread or recurrence of prostate cancer. This effect has not been shown with chondroitin sulfate supplements. However, until more is known, do not take chondroitin sulfate if you have prostate cancer or are at high risk for developing it (you have a brother or father with prostate cancer).
Chondroitin sulfate is most commonly used by adults in doses of 800-1200 mg per day, for up to 2 years.

There is concern that some chondroitin sulfate products are not labeled accurately. Some products might contain no chondroitin, while other products might contain more than the amount stated on the product's label. Because of these issues, the effects of different chondroitin products may vary. Speak with a healthcare provider to find out what dose or product might be best.
Interactions with pharmaceuticals
Warfarin (Coumadin)
Interaction Rating=Moderate Be cautious with this combination.
Warfarin is used to slow blood clotting. There are several reports showing that taking chondroitin with glucosamine increases the effects of warfarin. This can cause bruising and bleeding that can be serious. Don't take chondroitin if you are taking warfarin.
Interactions with herbs & supplements
Glucosamine: Taking chondroitin sulfate together with glucosamine hydrochloride might reduce blood levels of glucosamine. But it's not clear if this will change the effects of glucosamine hydrochloride. It's also not clear if this interaction occurs with other forms of glucosamine, such as glucosamine sulfate.
There are no known interactions with foods.
vital.ly has licensed monographs from TRC Healthcare.
This monograph was last reviewed on 28/12/2022 19:57:20 and last updated on 08/02/2023 07:17:40. Monographs are reviewed and/or updated multiple times per month and at least once per year.
Natural Medicines disclaims any responsibility related to medical consequences of using any medical product. Effort is made to ensure that the information contained in this monograph is accurate at the time it was published. Consumers and medical professionals who consult this monograph are cautioned that any medical or product related decision is the sole responsibility of the consumer and/or the health care professional. A legal License Agreement sets limitations on downloading, storing, or printing content from this Database. No reproduction of this monograph or any content from this Database is permitted without written permission from the publisher. It is unlawful to download, store, or distribute content from this site.