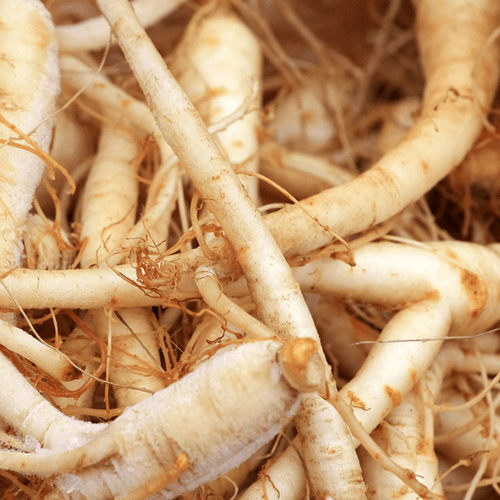 Scientific names: Panax quinquefolius
Alternate names: Anchi Ginseng, Baie Rouge, Canadian Ginseng, Ginseng, Ginseng à Cinq Folioles, Ginseng Américain, Ginseng Americano, Ginseng d'Amérique, Ginseng D'Amérique du Nord, Ginseng Canadien, Ginseng de l'Ontario, Ginseng du Wisconsin, Ginseng Occidental, Ginseng Root, North American Ginseng, Occidental Ginseng, Ontario Ginseng, Panax Quinquefolia, Panax Quinquefolium, Racine de Ginseng, Red Berry, Ren Shen, Sang, Shang, Shi Yang Seng, Wisconsin Ginseng, Xi Yang Shen
Actions: Antidiabetic, Cardiovascular, Estrogenic, Immunomodulating, CNS
American ginseng (Panax quinquefolius) is an herb that grows mainly in North America. It's an endangered species in some states due to high demand.

American ginseng is considered an adaptogen. Adaptogens are a class of substances that are believed to stimulate the body's resistance to physical, environmental, and emotional stressors. American ginseng also contains chemicals called ginsenosides, which seem to affect insulin levels and lower blood sugar.

People take American ginseng for stress, to boost the immune system, for upper airway infections, diabetes, and many other conditions, but there is no good scientific evidence to support most of these uses.

Don't confuse American ginseng with Asian ginseng (Panax ginseng) or Eleuthero (Eleutherococcus senticosus). These are different plants with different effects.
When taken by mouth: American ginseng is likely safe when used short-term. Doses of 100-3000 mg daily have been used safely for up to 12 weeks. Side effects might include headache, but it's usually well-tolerated.
Special Precautions & Warnings:
Pregnancy: American ginseng is possibly unsafe to use during pregnancy. One of the chemicals in Panax ginseng, a plant related to American ginseng, has been linked to possible birth defects. Don't take American ginseng if you are pregnant.

Breast-feeding: There isn't enough reliable information to know if American ginseng is safe to use when breast-feeding. Stay on the safe side and avoid use.

Children: American ginseng is possibly safe when used short-term. A specific American ginseng extract called CVT-E002 (Cold-FX, Afexa Life Sciences) has been used in doses of 4.5-26 mg/kg by mouth daily for 3 days in children 3-12 years of age.

Hormone-sensitive conditions such as breast cancer, uterine cancer, ovarian cancer, endometriosis, or uterine fibroids: American ginseng products that contain chemicals called ginsenosides might act like estrogen. If you have any condition that might be made worse by exposure to estrogen, don't use American ginseng that contains ginsenosides. Some American ginseng extracts have had the ginsenosides removed.

Insomnia: Taking high doses of American ginseng might cause sleeping problems. If you have trouble sleeping, use American ginseng with caution.

Schizophrenia (a mental disorder): Taking high doses of American ginseng might cause sleep problems and agitation in people with schizophrenia.

Surgery: American ginseng might affect blood sugar levels and might interfere with blood sugar control during and after surgery. Stop taking American ginseng at least 2 weeks before a scheduled surgery.
American ginseng has most often been used by adults in doses of 200-400 mg by mouth twice daily for 3-6 months. Speak with a healthcare provider to find out what dose might be best for a specific condition.
Interactions with pharmaceuticals
Medications for depression (MAOIs)
Interaction Rating=Moderate Be cautious with this combination.
American ginseng might stimulate the body. Some medications used for depression can also stimulate the body. Taking American ginseng along with these medications used for depression might cause side effects such as anxiousness, headache, restlessness, and insomnia.

Some common MAOIs include phenelzine (Nardil), selegiline (Zelapar), and tranylcypromine (Parnate).
Medications for diabetes (Antidiabetes drugs)
Interaction Rating=Moderate Be cautious with this combination.
American ginseng might lower blood sugar levels. Taking American ginseng along with diabetes medications might cause blood sugar to drop too low. Monitor your blood sugar closely.
Medications that decrease the immune system (Immunosuppressants)
Interaction Rating=Moderate Be cautious with this combination.
American ginseng can increase the activity of the immune system. Some medications, such as those used after a transplant, decrease the activity of the immune system. Taking American ginseng along with these medications might decrease the effects of these medications.
Warfarin (Coumadin)
Interaction Rating=Major Do not take this combination.
Warfarin is used to slow blood clotting. American ginseng has been reported to decrease the effects of warfarin. This might increase the risk of clotting. It is unclear why this interaction might occur. To avoid this interaction, do not take American ginseng if you take warfarin.
Interactions with herbs & supplements
Herbs and supplements that might lower blood sugar: American ginseng might lower blood sugar. Taking it with other supplements with similar effects might lower blood sugar too much. Examples of supplements with this effect include aloe, bitter melon, cassia cinnamon, chromium, and prickly pear cactus.
There are no known interactions with foods.
vital.ly has licensed monographs from TRC Healthcare.
This monograph was last reviewed on 18/09/2023 10:00:00 and last updated on 12/11/2022 00:06:46. Monographs are reviewed and/or updated multiple times per month and at least once per year.
Natural Medicines disclaims any responsibility related to medical consequences of using any medical product. Effort is made to ensure that the information contained in this monograph is accurate at the time it was published. Consumers and medical professionals who consult this monograph are cautioned that any medical or product related decision is the sole responsibility of the consumer and/or the health care professional. A legal License Agreement sets limitations on downloading, storing, or printing content from this Database. No reproduction of this monograph or any content from this Database is permitted without written permission from the publisher. It is unlawful to download, store, or distribute content from this site.