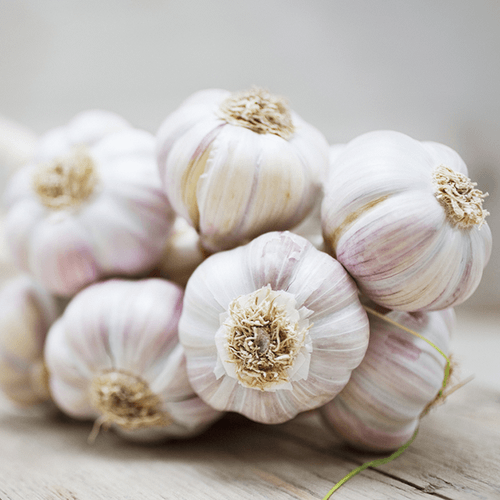 Supplemental compounds: Liliaceae
Description:
Perennial kitchen herb up to 1 m tall with fleshy and slightly greyish leaves, rounded whitish-pink flower heads and numerous small bulbs borne in a group and surrounded by a white papery sheath. Originated in Middle East or central Asia.
Constituents: Alliin (allicin)
Indications & contra-indications
Actions:
Anthelmintic
Antiatherosclerotic
Antifungal
Antihypercholesterolaemic
Antihyperlipidaemic
Antihypertensive
Antimicrobial
Antioxidant
Antiparasitic
Antiplatelet
Antiprotozoal
Antiseptic (GIT)
Antiviral (systemically)
Chemoprotective
Fibrinolytic
Mucolytic
Vasodilator
Indications:
Arteriosclerosis
Atherosclerosis
Circulation, peripheral, impaired
Hypercholesterolaemia
Hyperlipidaemia
Hypertension
Infection, gastrointestinal system
Infection, respiratory tract
Nutrient reference value:
No observed adverse effect level (NOAEL):
Suggested optimal nutritional allowance:
Dietary reference intake:
BHP indications: Chronic bronchitis, respiratory catarrh, recurrent colds, whooping cough, bronchial asthma and influenza. Specifically indicated for chronic bronchitis.
Commission E indications: Support to dietary measures for elevated blood lipid levels, preventive for age-dependent vascular changes.
Contraindications: Contraindicated in those with known sensitivity. Prolonged or high doses of fresh raw garlic and allicin-releasing garlic products should not be taken during pregnancy.
Cautions: Garlic may cause gastric irritation, allergy, contact dermatitis, and other skin reactions, and increased body odour.
Dosage (dry herb): 0.4-1.2 g per day
Dosage (liquid extract): 40-80 mL per week (1:1)
Dosage (powdered extract): Equivalent to 4-12 mg alliin daily
Qualities: Warm 4th degree.
WHO: Adjuvant to dietetic management of hyperlipidaemia, and prevention of atherosclerotic vascular changes. May be useful in treatment of mild hypertension.