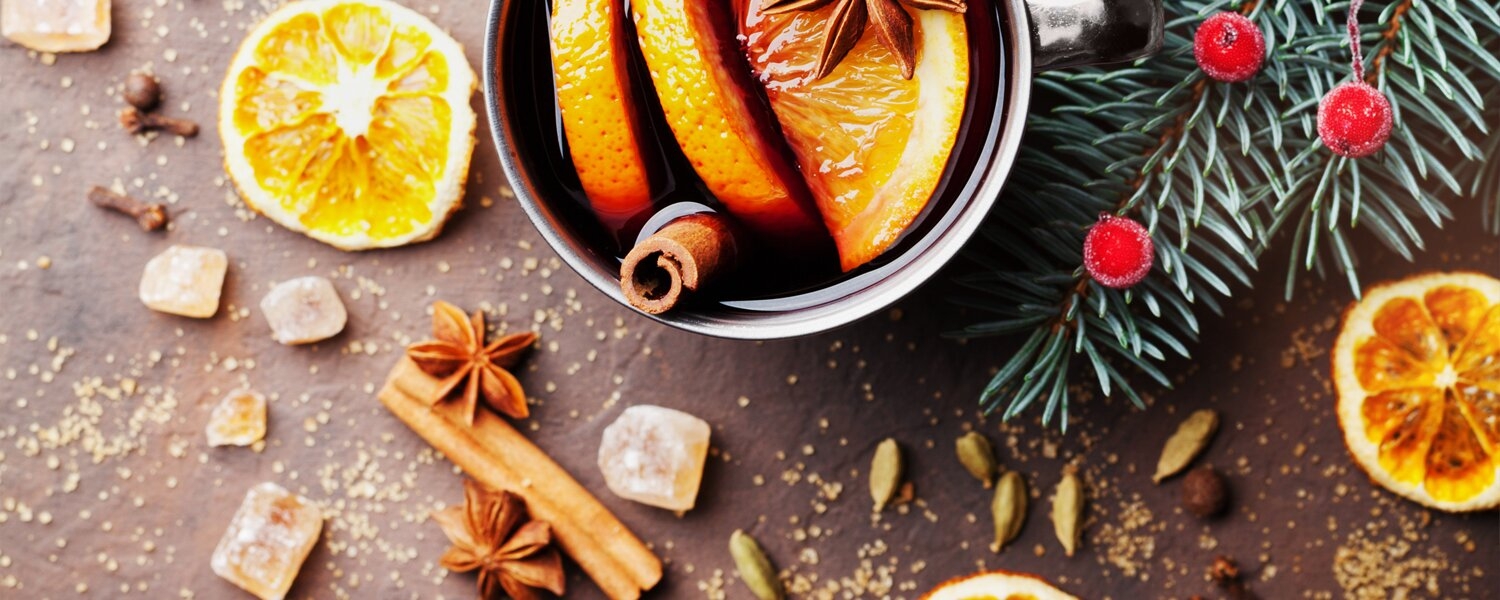 With the festive season well upon us, the smell of traditional Christmas cooking is in the air. Spices traditionally associated with mouth-watering Christmas treats are not only a hit with the taste buds but also confer various health benefits.
Spices are one of the earliest recorded functional foods (1). Here we will uncover the health-boosting properties of six popular festive spices.
Ginger (Zingiber officinale)
Nutmeg (Myristica fragrans Houtt.)
Cinnamon (Cinnamomum)
Clove (Syzygium aromaticum L.)
Allspice (Pimenta dioica)
Cardamom (Elettaria cardamomum)
Cooking with Christmas spices

Ginger (44)

Add raw ginger to stir-fries or curries; use in marinades; grate to make tea.
Dried ginger works well in puddings, pancakes and fruit cakes or stewed fruits, particularly apple.

Nutmeg (45)

Nutmeg's full flavour spectrum is best experienced when grated freshly onto something hot rather than being cooked.
Nutmeg has a great affinity with rum and thus used in cocktails as well as in cooking. It's great with chocolate, too.
Nutmeg is a vital member of any mixed spice but especially good combined with cinnamon, creating a welcoming, warming aroma. It also has a special affinity with cardamom; both are great on hot coffee and in or on coffee cake.

Cinnamon (46)

 

This fragrant spice adds a warm flavour to sweet and savoury dishes.
Ground in cakes, biscuits, and desserts.
Sprinkled over baked fruit and custards.
Add whole to casseroles, mulled wine, and punch.
Soak a cinnamon stick in herbal tea before drinking.
Add to water when boiling rice.

Clove (47)

 

Used to flavour a wide variety of sweet and savoury dishes. Cloves can be used whole or ground to impart a strong, sweet, spicy flavour.
It's best to grind whole cloves into powder using a pestle and mortar just prior to using them to maximise flavour and freshness.
Insert whole cloves into baked hams or oranges, apples or onions to add flavour, or add ground cloves to curries.
They can also be used to flavour syrups and baked goods such as our clove sugar cookies.

Can be used in ground form or whole. Ground spices are more intense than whole cloves or berries, however, once ground, Allspice can quickly lose its pungency.
Can be used to flavour desserts, side dishes, main courses, and beverages, including mulled wine and hot cider.
In baking, Allspice is used mostly in desserts such as pumpkin pies, banana bread spice cake, bread pudding and gingerbread.

Cardamom (49)

Comes in two types (green and black) and is used as whole pods, seeds, or ground.
Green cardamom (Elettaria cardamomom) is known as true cardamom. This is the most common variety sold for cooking.
Used to season everything from baked goods to hamburgers and meatloaves.
It matches well with cinnamon, nutmeg, and cloves.
Drinks from mulled wine to hot cider to eggnog will benefit from an unexpected hint of cardamom.
Conclusion
While clinical trials involve high dose formulations of the spices mentioned above for therapeutic effect, including tasty spices in your favourite meals, drinks and treats can spice up your Christmas while spicing up your overall health and well-being!