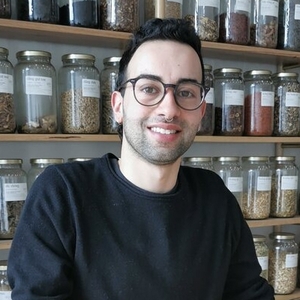 Ramsen (Remi) Odisho -
Loving Awareness
About Ramsen
Hello, I'm Remi. I am a degree-qualified Naturopath and a member of the Australian Natural Therapists Association. My journey began with a background in biomedical science before moving on to Naturopathic medicine where I found a truly holistic framework that I fell in love with.
My business is focused around nutritional, herbal and lifestyle medicine, but a big part of what I do is patient education. I believe the best way to get patients to reach their goals is by empowering them through education and giving them the tools they need to thrive.
I'm very passionate about herbal medicine, functional nutrition and lifestyle medicine. My background in biomedical science gives me a strong understanding in human physiology and nutritional biochemistry that allows me to create a tailored treatment plan to each individual. I have a special interest in gut-related issues, mental health management and chronic metabolic conditions.
I believe real change comes about from lifestyle and dietary changes, and thus I work closely with my clients to help them manage their health, diet and lifestyle in a way that suits them. If you're committed and ready to make some real changes, I look forward to hearing from you.
Until then, stay safe and take care!